Edinburgh's Waverley Mall revamp plans unveiled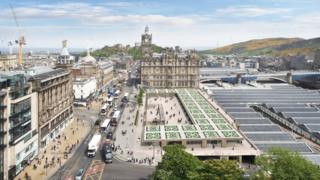 Plans for a revamp of a shopping Mall in the centre of Edinburgh have been unveiled by its new owners.
Waverley Mall is to get a new roof terrace with shops and restaurants.
The north elevation of the terrace will be open onto Princes Street with steps leading to a wide open European style piazza area.
Asset manager for the owner The Moorgarth Group, which acquired the mall in March 2017, has submitted proposals to City of Edinburgh Council.
The plans also show a new entrance with the pavement outside doubled in width for easier access.
Tim Vaughan, Moorgarth Group's CEO, said: "Along with the improved roof space, the new entrance and the widening of the pavement on Princes Street are all about establishing a greater sense of arrival into Edinburgh that utilises its unique and very important location.
"Retail is continuing to change and through innovative design we can create a truly destinational scheme offering facilities that Edinburgh currently doesn't have.
"It is imperative that we enable the current offer to change and evolve to meet today's customer demands for both residents, businesses and visitors to Edinburgh."