'I did not rape her', accused tells civil trial in Fife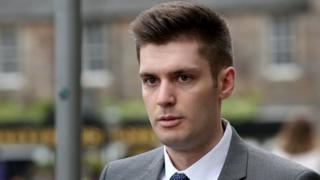 A man has told a court he did not rape a woman who has raised a civil legal action against him.
Stephen Coxen is being sued by the woman after he was cleared of rape in a criminal court.
Mr Coxen, from Bury in Greater Manchester, admitted he had been "rude" towards the woman on the night in question in September 2013.
He said their time together became upsetting, but he denied the allegation he faces.
The 23-year-old told the Personal Injury Court in Edinburgh he was "really shocked" in 2014 when he found out the claim was being made against him.
He is being sued by the woman who accuses him of raping her in St Andrews, Fife, after a night out.
'Serious allegation'
She began a legal action in the civil courts after the criminal case against Stephen Coxen in November 2015 ended in a not proven verdict, meaning he was acquitted.
Mr Coxen was giving evidence in his defence on Thursday.
Stephen O'Rourke QC - representing Mr Coxen, who contests the action - asked him: "Do you understand the very serious allegation made in those (criminal) proceedings and made against you in these proceedings is that you raped the pursuer?"
"Yes," he replied.
"Do you understand what rape means?" the lawyer continued.
"Yes," said Mr Coxen.
"Did you rape the pursuer?" the QC asked.
"No," he answered.
Mr Coxen told the court he was visiting his friend Dominic Hurst in St Andrews on the weekend in question and they went out with some friends to the Lizard Lounge venue after having drinks together.
He said he was in the smoking area of the club when the alleged victim tapped him on the shoulder and began kissing him.
"I was quite surprised but I just went along with it," he said, adding that he was happy and they were "snogging" passionately.
He told how they later ended up at the woman's flat after he was thrown out of the club following an altercation with a group of boys.
"She seemed to be enjoying my company," he told the court, adding that they got undressed in her bedroom and "started having intercourse".
He said that at some point she pulled away and when he asked if she was OK, she nodded.
'Immature and stupid'
Shortly after that, he looked down and saw blood, he told the court.
He continued: "Then I quickly got off the bed and ceased intercourse and I said something to the effect of 'That's disgusting, I thought you were alright'.
"I got dressed and I left the property quite quickly."
He told how he felt "kind of grossed out" after incorrectly thinking the woman was having a period.
Mr O'Rourke asked Mr Coxen how he now feels about the way he reacted at the time, when he was aged 18.
"Immature, stupid," he replied.
"Is that something you regret, then?" the QC asked.
"Yes," he said.
"I obviously apologise for that, (it was) very rude."
The lawyer later continued: "The experience both for you and the pursuer was not a positive one and would have been upsetting, certainly for the pursuer?"
Coxen answered: "Certainly for the pursuer, yes."
The case, in Edinburgh, continues.