Youths reported over Whitburn fire which injured firefighter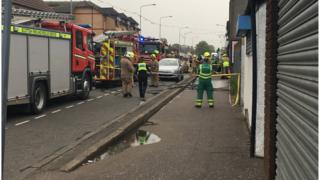 Five youths have been reported to the Children's Reporter following a blaze where a firefighter was injured.
The firefighter suffered minor injuries to his arm and shoulder during the incident on West Main Street, Whitburn about 20:00 on Sunday, 17 June.
Two boys aged 14, one girl aged 12, one boy aged nine and an eight-year-old boy have all been reported in connection with wilful fire-raising.
The fire was started in an unoccupied building.
The firefighter was treated at the scene by a paramedic before he was taken to St John's Hospital in Livingston.
The following day, the Scottish Fire and Rescue Service said he had been released.
At least three fire engines, two police vehicles and several unmarked emergency service cars attended the incident.