Plaque unveiled at fireman Ewan Williamson death site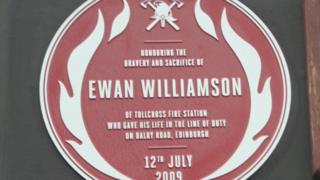 A plaque in honour of firefighter Ewan Williamson has been unveiled at the Edinburgh building where he died.
Mr Williamson was tackling a fire at the Balmoral bar in Dalry in 2009 when the floor of the building collapsed.
The red plaque scheme is run by the Fire Brigades Union to honour those killed in the line of duty.
Denise Christie, regional secretary of the FBU in Scotland, said: "Ewan made the ultimate sacrifice."
She added: "I am sure it will bring his family great comfort to know that nine years after his death that he is very much remembered.
"Ewan's family and friends will be in all of our thoughts on this anniversary."