'My son was killed by my forklift truck'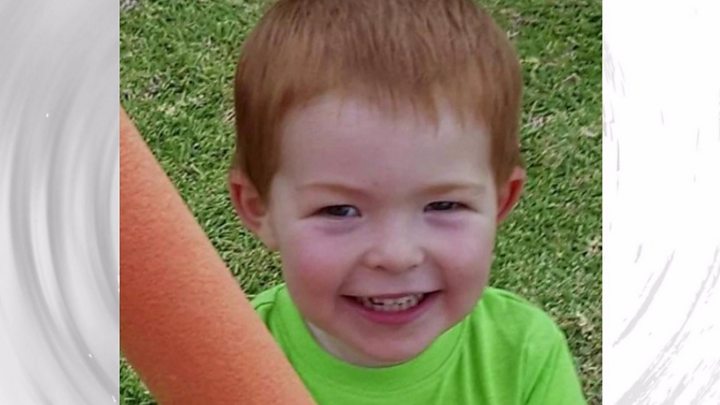 A Fife father has spoken for the first time about the death of his young son on the family farm last year.
Richard Nelson accidentally ran over three-year-old Stuart while reversing a forklift truck.
He told the BBC's Victoria Derbyshire programme: "It was a total accident. No-one is to blame. He was in my blind spot"
He spoke out as figures show 29 people were killed in farming accidents in the UK over the last year.
Richard appeared on the Victoria Derbyshire programme with his wife Linzi, and their daughter Hannah.
In February 2017, Stuart ran round a corner on Cuttle Hill Farm near Crossgates, Fife, into the path of the reversing vehicle, which was being driven by his father.
Richard said: "It was a very painful day. For once it was a nice, dry, late winter/early spring day. Linzi was back from her work, so Stuart came out to be with me."
Linzi added: "Stuart was outgoing, loved being on the farm, that was his happy place.
"When he wasn't on the farm he was a shy boy - very much a mummy's boy - but on the farm he was ...that was him. He loved playing with the grain, being with the cows, being with dad."
'Lying there...lifeless'
Richard was feeding the cows when the accident happened. He said he had asked Stuart to keep out the way.
"I was operating the forklift. I always kept my eyes wide open, making sure I knew he was out the way.
"When the accident happened, he was just in my blind spot. There was no blame. I just couldn't see him for love nor money. It was a total accident. No-one's to blame.
"When the accident happened, I was like 'please God don't let that be Stuart'. When I moved the machine back he was just lying there... lifeless."
Linzi told Victoria: "The only saving grace was that he was no pain. The accident was quick. He didn't have to suffer. We didn't have to make any life choices for him.
"We were lucky that he was taken to the Edinburgh Sick Kids Hospital, because they treated him like he was one of their own.
"They changed him into his own clothes and they created memory boxes for us - for Richard and I, and for both sets of grandparents. I can't thank the staff enough. They allowed us to spend as much time as we wanted with Stuart."
The Health and Safety Executive investigated the death, and sent a file to the procurator fiscal.
Richard told the BBC it was a very worrying time: "I was treated like a criminal. It started to affect me mentally, wondering what was going to happen.
"I wasn't left with any time to grieve for my son."
Linzi added: "Thankfully, I had an amazing family liaison officer. Without him, I don't think the two of us would be here together as much as we are. He took us through each step and he kept us informed about what was happening.
"The report that went into the fiscal very much pointed the blame at us - saying things like children shouldn't be in machinery until they're 13.
"If Stuart was in the machine, he'd still be alive today. He was on the farm, which was his home. We were basically told that he should be penned in."
More careful
Richard said that farming is not like a normal job, where you can leave home to go to work.
Speaking about their daughter Hannah, who Linzi was expecting when Stuart died, they said they were more careful about where she goes on the farm, but they do not prevent her from accessing it.
Linzi said: "You don't want to stop children being on farms. It's the only way that you're going to get future farmers from coming in."
Becoming emotional, Richard told Victoria Derbyshire: "I talk about Stuart everyday, because it really keeps me going.
"When Linzi comes out to the farm with Hannah, we make sure she's away from the machines. But how safe can you make stuff? I don't really know."
Figures from the Health and Safety Executive (HSE) were revealed as part of Farm Safety Week and showed that 29 farm workers were killed in the last year, which is 18 times higher than the average across other major UK industries.
While children are at risk, the organisers of Farm Safety Week, which runs between July 16 and 20, emphasised that older adults accounted for the majority of deaths.
Twenty-one of the 29 farmer workers killed were over the age of 60, while 14 were over the age of 65.