Leith Street to reopen after almost a year in Edinburgh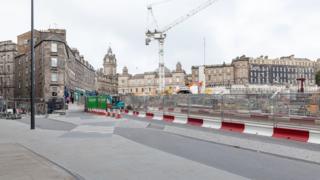 A road which is to house a new shopping centre in Edinburgh is to reopen after a £6m upgrade including extensive utility works.
Leith Street is to reopen on Saturday 28 July at 06:00 following the works, in connection with the £1bn St James Quarter development.
The road, which has been closed for 11 months, will also reopen to buses.
Two lanes south bound will be opened but only one north bound lane will open for safety reasons.
The works have included reconstructed pavements with improvements for people with disabilities and four crossing points and the road has been resurfaced.
A cycle way has been created between Calton Road and Picardy Place.
Martin Perry, director of development for Edinburgh St James, said: "We would like to thank the public for their patience during the main phase of construction work along Leith Street and we are delighted to now be reopening the street to traffic this weekend as planned.
"The closure period has enabled us to deliver a high quality and much-improved environment, which will better serve Edinburgh's pedestrians, cyclists and public transport for years to come."
Lesley Macinnes, transport convener for the City of Edinburgh Council, said: "The reopening of Leith Street marks the culmination of the first phase of public realm improvements being delivered in conjunction with the Edinburgh St James project.
"With wider pavements and better cycling provision, the works have created a much more accessible and people-friendly thoroughfare.
"Temporary traffic management will remain in place to allow construction of the new Picardy Place road layout to continue.
"I would like to thank the public for their continued patience and co-operation while these works are carried out."