Teenager admits murder bid on Syrian refugee in Edinburgh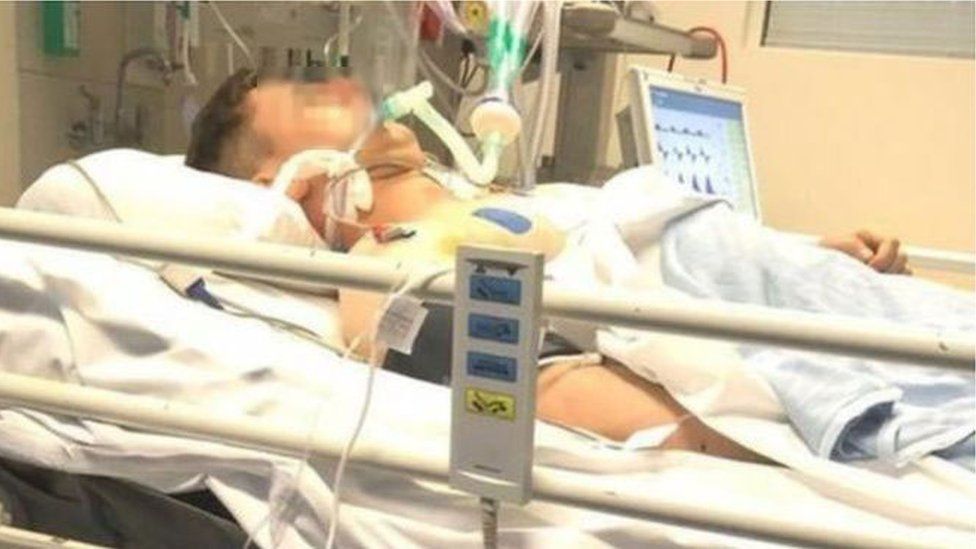 An 18-year-old man has pleaded guilty to the racially-aggravated attempted murder of a Syrian refugee in Edinburgh.
Sean Gorman stabbed Shabaz Ali, 25, on 3 May in Upper Gilmore Place. Mr Ali was stabbed six times, mainly in the chest, and suffered life-threatening injuries.
The attack followed a row about noise Gorman was making in a hostel.
The teenager will be sentenced at the High Court in Edinburgh on 17 August.
Mr Ali had fled to Scotland five years ago with his family and was working as a barber and staying in the hostel as he looked for a new home.
Gorman had been visiting the hostel before the row broke out.
Mr Ali called at the room after he heard noise was coming from and found Gorman inside. He said Gorman was saying "Go back to your country."
Mr Ali told BBC Scotland: "I pressed the button for security.
"He (Gorman) took the knife out and said 'I'm going to stab you.' Security did nothing.
"He said if you don't go to your room I will stab you but I was scared to go to my room because I thought he wanted to kill me in the room because there is no CCTV in the room. That's why I didn't go to my room and he started stabbing me."
Gorman was found later in Duff Street and arrested. A lock knife was recovered.
Gorman today admitted racially-aggravated attempted murder as well as causing racially-aggravated alarm to another woman in the hostel.
Det Ch Insp Paul Grainger, of Police Scotland, said: "Gorman's violence was extreme and left the victim with significant, life-threatening injuries.
"He showed utter disregard for the victim and another woman who was with him - made all the worse given the appalling racist language used.
"Whilst this attack happened within a private property, it gained a great deal of public and media interest and I'm pleased that Gorman has been brought to justice so quickly.
"Edinburgh is a vibrant place where people of different nationalities, faiths and backgrounds live together and the support shown by the local community for the victim and his family is far more indicative of the city's inclusivity than this one isolated incident."
Campaigners later set up an online appeal for donations "to help Shabaz recover and rebuild his life" with more than £12,000 raised.
Mr Ali's solicitor Aamer Anwar said a number of attacks on Syrian refugee communities were going unreported because people "are too frightened to complain".
Mr Anwar said: "The family are Syrian refugees from Kobane, Northern Syria, who fled death to live in Scotland five years ago.
"Shabaz lost nine members of his family after an attack on their city by Islamic State. This racist thug who plead guilty today had no regard for thelife of Shabaz Ali, who had done nothing wrong, he was a hardworking and quiet young man trying to rebuild his life after Syria.
"Many refugee families today are suffering racist abuse in Scotland and it's up to decent people to stand up for their rights and ensure that the culprits are dealt with and that the local authorities act sensitively to support and if necessary rehouse victims."
Kate Campbell, housing and economy convener at City of Edinburgh Council said the authority had been doing everything possible to support Mr Ali and his family during this "terrible time".
She added: " I would also stress that we take the safety of everyone placed in temporary accommodation very seriously.
"The Homelessness Task Force has a meeting at the end of August where we will be looking at temporary accommodation and safety measures they have in place."
Related Internet Links
The BBC is not responsible for the content of external sites.