Forth crossing painting to last 17 months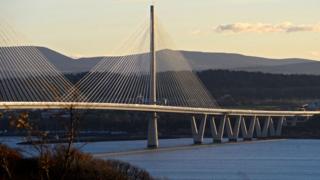 The painting of the new Queensferry Crossing will not be completed until the end of 2019, more than two years after its official opening.
Transport officials confirmed that work on the underside of the road deck will last until December next year.
However, the painting is not expected to have any impact on traffic flow.
Other "snagging work" which has led to off-peak and overnight lane closures remains due for completion this September.
The £1.35bn crossing was officially opened in September last year - but it emerged last autumn that some traffic restrictions would continue as remedial work was carried out.
A "workmanship error" led to the partial closure of the bridge for five days in November for resurfacing work, while other problems are understood to include drainage, lighting and concrete work.
Transport Secretary Michael Matheson gave an update on the progress of remedial works in a letter to MSPs on Holyrood's rural economy and connectivity committee.
He said the contractors were on schedule "to complete all but one element of the snagging and finishing work by September 2018".
He said they had requested a time extension for remedial painting work on the underside of the new crossing, partly because of difficulties encountered providing safe access for the workforce.
No additional costs
The minister said he had agreed to the timescale, in the knowledge that there would be no additional cost to the public purse.
Transport Scotland said it was always its intention to open the bridge at the earliest opportunity, and any finishing or snagging work was being carried out to minimise impact on the travelling public.
A spokesman added: "The Queensferry Crossing is already proving its worth in meeting its objective of providing a reliable crossing over the Forth.
"Since opening there have been 14 occasions on which the Forth Road Bridge would have closed to high-sided vehicles due to weather conditions."