Paramedics to free up doctors by taking on house calls in Edinburgh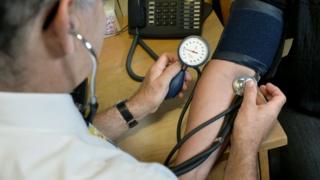 Paramedics are set to help out under-pressure GPs by taking on house visits in Edinburgh.
The emergency responders are set to start a full trial of the service next month following an initial pilot.
They could cover all "appropriate" afternoon unscheduled house calls in the capital by April next year.
It is one of a dozen proposals in the Edinburgh Health and Social Care Partnership's Primary Care Improvement Plan to the Scottish government.
The government will look at the plans for approval.
The policy has been piloted in Scotland and at least two GP practices in Edinburgh are already using paramedics for some house calls.
House calls are not routinely counted or reported by health officials and can vary enormously per practice
It is estimated that approximately 500 house calls are made each weekday across Edinburgh.
Additional support
The new Scotland GP contract, which came into force in April, included reducing GP workload through the expansion of the "primary care multi-disciplinary team".
Judith Proctor, chief officer of Edinburgh Health and Social Care Partnership, said: "It is an ambitious redesign of primary care services developed by the Edinburgh Health and Social Care Partnership and GPs and is in essence a change in how services will be delivered.
"We see this as the next stage in improving primary care for everyone.
GP practices in Edinburgh have been under increased pressure since 2014.
Around 20 of the capital's 72 GP practices have needed "additional support and attention" in order to provide services to registered patients. More than 40 practices in Edinburgh have restrictions on their patient lists.
In order to carry out house calls, around 15 paramedics in Edinburgh have undertaken "additional specialist training".
Another 15 will undergo the skills programme by the end of this year.
Some paramedics have been able to prescribe medicine since April.
Dr Jim Ward, medical director of the Scottish Ambulance Service, said: "GP practices across the whole of Scotland are facing huge pressures.
"This project helps patients to access the help they need sooner and often in the familiar setting of their own homes."