Rough sleepers in Edinburgh to get phone chargers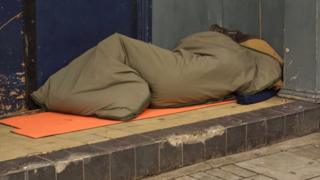 Homeless people in Edinburgh are to be given portable mobile phone chargers, enabling them to make emergency phone calls to support services.
Edinburgh-based charity Streetwork have purchased the chargers, which will be handed out next week.
They are printed with telephone numbers, including Streetworks' own, so that urgent phone calls can be made.
Powerpacks which have run out of charge will be replaced with fully charged ones by the charity's street team.
The Streetwork hub on Holyrood Road is also being used to charge phones and will act as a support centre for rough sleepers.
By speaking to rough sleepers, Streetwork identified high levels of mobile phone ownership but no easy way to charge them.
The charity says that many people who are rough sleepers find it difficult to charge their phone in the way most would when out shopping or in cafes.
'Support and treatment'
Hugh Hill, director of Streetwork, said the focus of the charity is to get people off the street but when that is not possible the priority is keeping people safe.
He added: "For most of us, our phone is a crucial connection to our family, friends and the outside world.
"If you're on the street, it's more important than that; your phone is a lifeline, security and, in some cases, it's your only means of help."
According to Streetwork statistics, the average life expectancy of a homelessness person is 47, while a rough sleeper is nine times more likely to commit suicide and 47 times more likely to be robbed.
Applications to local authorities for homeless status rose by 1% to 34,972 between 1 April 2017 and 31 March 2018.
The charity say they are already preparing for the winter after the severe weather earlier this year and their team are out daily to help.
Mr Hill said: "Our street team are out every day connecting with people sleeping or begging on the streets.
"In one day, in June, we spoke to 89 people begging in the city. We know people are having a tough time and we're helping people get the right support and treatment they need. Being able to keep in touch by phone is a huge benefit."