Murder accused 'swarmed over' man during attack in Edinburgh pub lane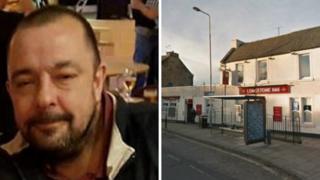 A man has told a murder trial how a group of men "swarmed" over his childhood friend and aimed kicks at his head and body.
Mark Squires was attacked outside a Hearts FC supporters club in Edinburgh on 22 October 2017.
His friend Charles Murray, 45, was giving evidence during the second day of proceedings against Nico Allan, 24, Aiden Welsh, 25, and Liam Tierney, 20.
The three men deny murdering Mr Squires at Burnside Lane near Longstone Road.
The High Court in Edinburgh heard how the two friends had been at a charity night to raise money for another friend who had suddenly died.
Self-defence
Mr Murray said after the night out ended, the friends were standing in a street trying to hail a taxi to take them home when three men carried out the attack.
He said: "They were kicking him on the head and body. They swarmed on him."
Prosecutors claim Mr Allan, Mr Welsh and Mr Tierney repeatedly punched, kicked and stamped on Mr Squires head and body.
The men are also alleged to have caused Mr Squires' head to "strike off a wall" and that they then struck him over the head with a glass bottle.
The crown claim the three men severely injured Mr Squires and that they murdered him.
Prosecutors also claim the three men repeatedly punched and kicked Mr Murray on the head and body.
It is also claimed that on the same date, at a nearby location, the three men behaved in a "threatening and abusive manner" by shouting, swearing, and fighting with people "unknown".
In relation to the murder charge, the three men have lodged special defences of self-defence.
The trial, before judge Lord Tyre, continues.