Can children floss their way to fitness?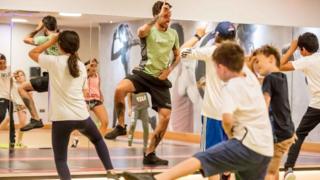 A health club claims to have found a way to get Fortnite-obsessed children away from their game consoles this summer.
As the popular game celebrates its first birthday, a fitness chain has extracted popular parts of the on-screen game and brought them to life in an effort to get players active.
"Emote" dances like the floss, hype and fresh are now part of a fitness class at some David Lloyd clubs, including two in Edinburgh.
But health experts say ideas like this are only a quick fix to a long-term problem.
Fortnite was released by Epic games in July 2017.
It took six years to develop and in a year has arguably become one of the most talked-about video games of the decade.
According to Epic games, more than 125 million players worldwide are gripped.
The game has proved popular but also controversial, with concerns raised about hackers getting access to accounts used for purchases and over the potential dangers of children playing the game online with strangers.
The length of time players are spending on the game has also been raised as a concern by parents.
In an effort to capitalise on the game's popularity and to get the gamers moving, David Lloyd Clubs have introduced an exercise class for teenagers and children dedicated to learning the dance moves featured in Fortnite.
Called "emotes", the victory dances have developed a life of their own.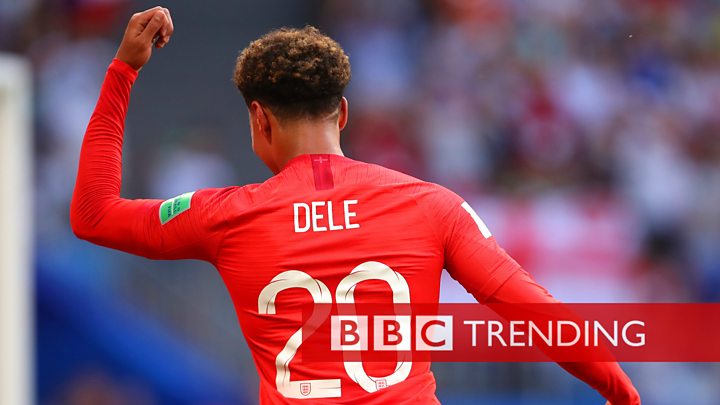 England's Deli Alli has "taken the L" in his goal celebrations and Will Smith and Stranger Things star, Millie Bobby Brown, have been caught on camera doing the "floss".
The "Emote Royale" class hopes to get children away from their screens for at least the length of the session.
Participants learn 12 dances inspired by the popular game including; the floss, orange justice, take the L, the wiggle, best mates, jubilation, hype, flapper, fresh, boneless, the worm and the robot.
Lorna Paul is a professor of Allied Health Sciences at Glasgow Caledonian University.
She said any kind of physical activity for young people is a good thing.
"There is no such thing as a bad activity for that age group. The amount of activity young people are doing is reducing all the time because of screen time," she said.
"A lot of children are on tablets, television or phones for up to six hours a day."
Prof Paul says ideas like these all have a hook.
"This is similar to the Pokemon Go craze of last year which got children out of their homes, but that too was criticised for not being safe," she said. "And I know of another in England which used Disney characters.
"Right now Fortnite is the hook and I understand why David Lloyd have done this."
'Epidemic of inactivity'
But the professor thinks these activities are short-term fixes to what she calls "almost an epidemic of physical inactivity".
She said: "We should be thinking of long-term sustainable solutions.
Children should be doing 60 minutes of moderate to vigorous activity every day."
Lanarkshire dance teacher Pamela Killean thinks the game's emotes are good way to get children interested in dance who might not otherwise consider it.
"I do think they are a great access point for kids and teens looking for some fun and fitness," she said. "Finding a way to encourage activity levels incorporating current trends seems like a great idea.
"Even basic co-ordination and balance skills are improved with these fun moves. Discovering a passion for dance from a less conventional setting is no bad thing.
"The simple moves can be attempted by everyone and a programme that makes dance accessible and acceptable for boys as well as girls is definitely to be encouraged."
A spokeswoman for David Lloyd Clubs said: 'We know that kids - and some parents - are huge fans of the Fortnite game, but excessive screen time can pose a problem for kids, meaning they're not as active as they should be.
"The 'Emote Royale' class has been developed by kids, for kids, to help keep everyone active this summer."