Man jailed for drinks row killing in Edinburgh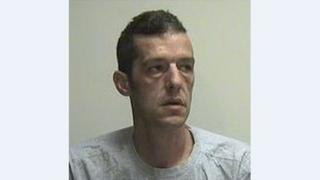 A man who killed a party-goer in Edinburgh following a row over a missing bottle of alcohol has been jailed for nine years.
Paul Beattie, 46, stabbed James Gatti outside a house in Gilmerton last year.
The high court in the city heard how Beattie stabbed Mr Gatti twice with a kitchen knife after he saw his victim put his hands around his partner Louise McCulloch's throat.
Beattie, from Edinburgh, stood trial on a murder charge last month.
The trio had been having drinks in Mr Gatti's mother Lorraine Cole's house.
However, Beattie and Ms McCulloch were forced to leave after she got into an argument with fellow party goers. She thought they had stolen a bottle of Malibu from her.
The court heard he had spent the evening before the crime drinking large amounts of alcohol and taking drugs.
Jurors convicted him of the lesser offence of culpable homicide.
Defence advocate Shelagh McCall QC stated that her client had always accepted stabbing Mr Gatti and had tried to plead guilty to culpable homicide before trial.
However, prosecutors refused to accept the plea and forced Beattie to go to trial.
Ms McCall stated that the law stated people in her client's position should receive a discounted sentence.
Close-knit family
Lady Scott accepted the submission and cut Beattie's sentence by two years.
Passing sentence, Lady Scott added: "You have robbed a young man of his life, his wife of her life partner and his young children of their father.
"They and the wider close-knit family are left devastated and are forever bereft. The consequence of your conduct could not be more serious or heartbreaking.
"On the other hand, I take into account of the fact that this attack was out of character.
"You are 46 years of age and you have no history of violence, far less violence involving a lethal weapon. I accept too that you have remorse and shown insight on the effect of your conduct."
On Thursday, Ms McCall told Lady Scott that her client was sorry for what he had done.
She added: "He recognises the harm and distress and that the damage that he done to Mr Gatti's family. He believes he deserves some kind of retribution for his actions."
Det Insp Bruce Coutts of Police Scotland said: "First and foremost, our thoughts and deepest sympathies remain with the family of James Gatti and it is my sincere hope that they can now begin the process of moving on with their lives.
"Paul Beattie subjected Mr Gatti to a brutal attack and inflicted upon him injuries, so serious, that he could not recover."