Offences drop on Scotland's first urban road with average speed cameras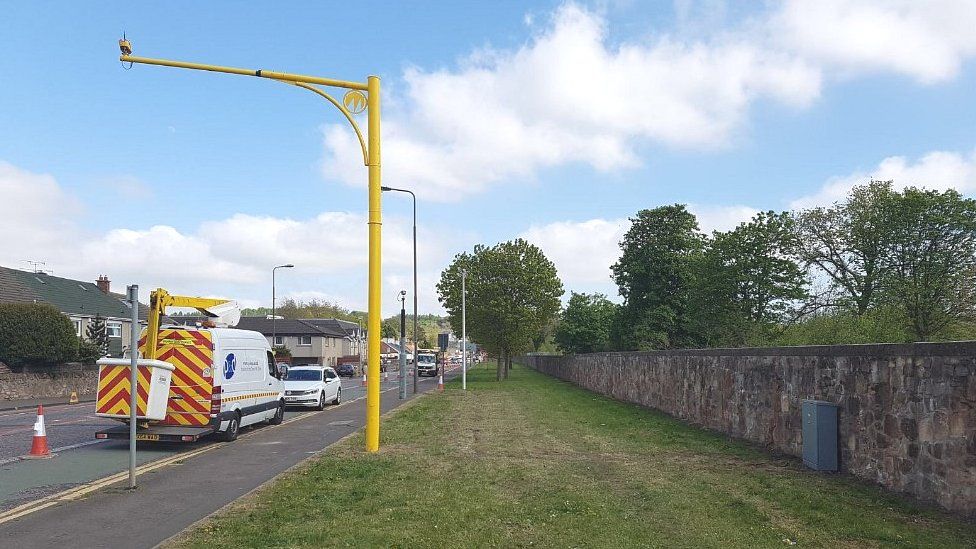 Scotland's first urban road to feature average speed cameras has seen a huge drop in speeding offences.
Officials monitoring the camera system on Old Dalkeith Road in Edinburgh said there was now an average of two offences recorded per day.
Before the cameras were installed three in every five vehicles were speeding.
Between 2013-15 there were six crashes where someone was injured on that stretch of road, including three resulting in serious injury or death.
The £113,000 system, which was installed a year ago, was introduced to improve road safety on the route, reduce the number of collisions and encourage motorists to drive within the speed limit.
George Henderson, who lives on Old Dalkeith Road, said he has seen about seven deaths on the road.
He said: "This was a quiet road until the Royal Infirmary opened up.
"The cars go along here that fast.
"It's a blind corner and its a bad camber on the far side and that's where the accidents happen and the bus shelter has been knocked down about 6 times.
"It's been fantastic since the cameras were installed. You see them putting on the brakes when they get near."
During the last year there have been no crashes resulting in injury reported on Old Dalkeith Road in the area covered by the average speed camera system.
Insp Vincent Fisher, of Police Scotland, said: "Average speed camera systems have a proven record in reducing speeding and improving road safety.
"It was hoped the first installation of such a system in an urban environment would deliver the same results.
"It's clear after the first full year of operation the system has encouraged a significant change in driver behaviour and I would like to personally thank all the drivers who use this route for considering their driving manner and helping to make the road much safer.
"Prior to the cameras being installed, less than 40% of the 15,000 vehicles a day which use the road were adhering to the speed limit.
"We now find that, on average, speeding offenders have been reduced to only two per day and in the last year nobody has been injured on the section of Old Dalkeith Road covered by the system."
Steven Feeney, head of the Scottish Safety Camera Programme, said: "These findings add to the compelling evidence that average speed cameras help to transform driver behaviour."
Lesley Macinnes, City of Edinburgh Council transport and environment convener, said the figures were "extremely encouraging".
Related Internet Links
The BBC is not responsible for the content of external sites.