Driving instructor jailed for sex attacks on 14 women in Fife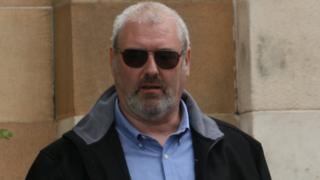 A driving instructor has been jailed for four years for sexually abusing 14 female students while they were in his car in Fife.
Neil Addison, 55, carried out the attacks on young women between June 2014 and August 2017 .
Several of his victims described how Addison, from Cupar, had initially been friendly but started groping them a few weeks into their tuition.
Last month at Dundee Sheriff Court he was found guilty of 14 charges.
Addison had denied touching "of a sexual nature" and claimed to police he was only giving a "reassuring pat".
Block of lessons
One girl told earlier told the court that Addison had repeatedly brushed his hands over her breast after telling her she had hair on her.
And two of the girls told how over the course of a series of lessons Addison had started out touching them on the knee - before gripping the tops of their thighs after becoming more "comfortable".
Another victim said she had refused to get back in a car with him after the first time he touched her.
Others said they only persisted with their lessons with him because they had already booked their driving tests and paid for blocks of lessons.
In her closing speech to the jury, fiscal depute Eilidh Robertson said: "He feels it is appropriate to shove his hand down the top of a 17-year-old girl in the middle of a driving lesson because he is attracted to her."
Sheriff Tom Hughes jailed Addison for four years and placed him on the sex offender register indefinitely.
'No remorse'
He said: "They looked to you to guide them and paid you good money to do so.
"You took advantage of each and every one.
"The evidence suggests you were grooming them - on the girl's lessons you were friendly and pleasant and as time passed you took more and more advantage of them."
The judge added: "It is noteworthy that over time that your assaults escalated and became more and more serious.
"When you saw the last complainer crying you said not to say anything about it as it would affect your career.
"You show no remorse and don't accept the harm you caused.
"Your victims can take great pride that they gave evidence in a dignified manner and the jury believed each and every one of them."