Beast from the East hit Edinburgh Leisure profits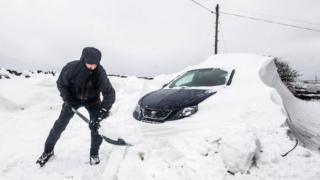 Severe winter weather cost a leisure company owned by Edinburgh City Council an extra £100,000.
The Beast From The East, which brought severe snowfall to the city in February and March, made a huge hole in the income of Edinburgh Leisure.
The company, which runs a host of the city's sport and activity facilities, was able to make a profit of more than £200,000 last financial year.
However, it missed out on a potential 30,000 customers during the storm.
The storm brought the city's transport network to a standstill and shut most schools as heavy snow saw the Met Office issue a red weather alert.
Extreme weather
Edinburgh Leisure was forced to close down its operations while the storm hit the Lothians. At one point, all facilities were closed.
In its annual financial report to the City of Edinburgh Council's culture and communities facilities, Edinburgh Leisure outlined its issues tackling the elements, as well as rising costs and a tricky jobs market for employers.
It said: "The net operating financial position for the period 1 April 2017 to 31 March 2018 for the 'core' business was a surplus of £208,000.
"A good result appreciating the ongoing environmental challenges: increasing costs, the Edinburgh employment marketplace, ongoing competitive pressures and a reduction in the management fee from the City of Edinburgh Council.
"There was also the extreme winter weather conditions, in the form of the 'Beast from the East', to contend with.
"The extreme weather resulted in the unprecedented step of closing venues for 2.5 days, which equated to a loss of circa £100,000 in income and 30,000 customer visits.
"The other significant 'happening' in 2017/18 was the closure of Meadowbank on 3 December 2017."
In the 2017/18 financial year, about £1.2m was invested across the capital to improve the efficiency of the organisation and to "develop welcoming places" for communities.
Additional equipment has been added at the Royal Commonwealth Pool, the cycle studio at Ainslie Park was refurbished as was the gym at Leith Victoria Swim Centre.
Energy saving projects were also put in place, as well as CCTV upgrades at Gracemount, Glenogle, Kirkliston, Leith Victoria and Portobello leisure and swim centres.