Reduction in motorbike crime across Edinburgh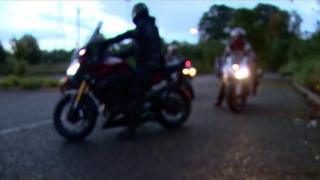 A significant reduction in motorcycle crime - both thefts and anti-social incidents - has been recorded in Edinburgh and the Lothians.
Operation Soteria has been tackling community concerns linked to the theft and antisocial use of motorcycles across the city, set up in 2016.
A range of new tactics include DNA tagging spray and deployment of off-road motorcycles.
Between 1 April and 1 September 2018 motorcycle theft has reduced by 60%.
It equates to 278 fewer offences in Edinburgh.
The capital has also seen a 54% reduction in motorcycle anti-social behaviour calls with 346 fewer incidents being reported compared with the same period the previous year.
Robust enforcement
Robert Pearson, chairman of the local residents' association, Trim, said: "The issue of the motorbikes still remains. Only yesterday we had motorbikes doing wheelies up and down Ferry Road. At 2am or 3am Ferry road is still a race track for motorcyclists.
"Whether they're stolen motorcycles or not but every other day we're still seeing posts across social media of "my bike's been stolen.
"Residents are no longer reporting crime because it's become the norm."
Keith Lynch, a local resident, said: "I blame the parents. It's the parents that are letting them away with it.
"The parents know that they're doing it and the damage they're doing to other people and their property. It is out of order.
"They were four or five bikes at a time - they used to run the cats over. They were killing the cats on Muirhouse Green. But it has gone down. I think it's really gone down.
"You can't blame the police they haven't got the resources now."
Significant impact'
Ch Supt Gareth Blair, of Police Scotland, said: "I am delighted with the results we are seeing, as a result of Operation Soteria.
"Motorcycle crime has undoubtedly had a significant impact across the city, not only in terms of antisocial behaviour and fear of crime, but also on the owners of the bikes stolen.
"By working in partnership with the City of Edinburgh Council we have created a range of preventative activity and robust enforcement to tackle this challenging issue."
Amy McNeese-Mechan, chairwoman of Edinburgh City Council's community safety partnership said: "Anti-social behaviour can have a devastating effect on communities.
"We are committed to making communities safer and do so by working closely with Police Scotland on initiatives such as Operation Soteria to reduce bike thefts and the dangerous use of motorcycles in the city.
"It's really encouraging to see the reductions in incidents and crime resulting from the work we have carried out with the police and other agencies."