Dog which bit Haddington man's genitals to be destroyed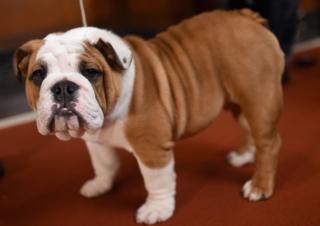 A dog which left a man in a serious condition in hospital after attacking his genitals, is to be destroyed.
The owner of the dog, believed to be an English bulldog, has agreed to having the animal put down.
The 22-year-old man suffered serious injuries to his groin area when the dog attacked him in a flat on Haddington's High Street on Sunday.
Police Scotland say inquiries are continuing into the full circumstances of the incident.
'Destruction of the animal'
A spokesman said: "Inquiries are continuing to establish how a 22-year-old man sustained significant injury to his groin area, while within an address in Haddington on Sunday 7 October.
"However, as part of this investigation the owner of the dog, which is believed to have been involved, has voluntarily signed documentation consenting to the destruction of the animal.
"This has now taken place after protracted dialogue between the Crown Office, Scottish SPCA and the East Lothian Council Dog Warden."
The man was in the Edinburgh Royal Infirmary but was then transferred to the Western General Hospital on the other side of the capital.