Major work on Forth Road Bridge to begin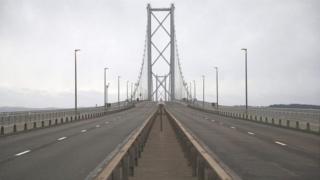 Major maintenance work on the Forth Road Bridge is set to begin and is expected to last for the whole of 2019.
The project will see all of the bridge's main expansion joints replaced over the course of the next 12 months.
Work will start on the joints in the east footpath from 12 November and is due to continue until late January 2019, with pedestrians and cyclists using the west footpath instead.
The larger joints on the main carriageways will then be replaced.
The second phase of work is then expected to cause traffic on the bridge to be restricted to a single lane in each direction before work on the joints in the west footpath takes place.
'Major benefit'
Journey times for vehicles using the public transport corridor over the Forth Road Bridge is not anticipated to be impacted by the works, with no diversions required.
Replacement of the joints had initially been planned to take place in 2009.
However, Forth Estuary Transport Authority postponed the works when the Scottish government confirmed its timetable for construction of the Queensferry Crossing.
According to Amey, the company responsible for operating the bridge, the completion of the Queensferry Crossing has reduced the cost of the works to £5.9m - less than half the £13.7m cost when plans were originally tendered in 2008.
Mark Arndt, Amey's account director for the Forth Bridges Unit, said: "The Queensferry Crossing has already delivered a major benefit by sparing the public the immense disruption that would have been caused if these works had gone ahead in 2009.
"It will also allow us to deliver these works at a significantly reduced cost."