'Mini Murrayfield' approval to be investigated by council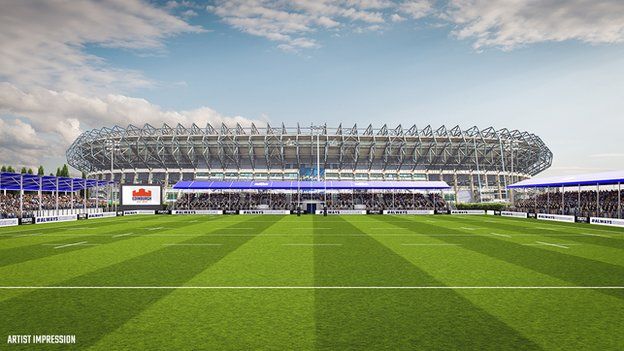 The process of approving plans for a new rugby stadium is to be investigated by City of Edinburgh Council.
Planning officers acted under delegated authority, despite the council leader classing the scheme as having "strategic importance".
John McLellan, Conservative councillor for Duddingston ward, raised concerns over how the plans avoided scrutiny.
Mr McLellan said: "A sports stadium has gone through the planning process without any discussion by councillors at all."
He called on City of Edinburgh Council leader Adam McVey to "explain how a new sports stadium with significant implications, can be pushed through on the nod of the planning system without any oversight whatsoever from councillors".
Planning applications usually need to have accumulated at least seven objections for plans to be brought in front of the council's development management sub-committee.
The Edinburgh Rugby plans received six submissions - one from the Water of Leith Conservation Trust, three neutral comments from the Edinburgh Access Panel, Murrayfield Ice Rink and Murrayfield Curling and one supporting comment.
Mr McVey said it was "unusual" that an application of its scale did not "go through planning".
Changes to the council's policy of delegated powers for planning have been paused for an investigation into the mini Murrayfield decision.
Mr McVey added: "The change to the scheme of delegation was pulled to give us more time to investigate.
"I think the application and the plan which has been talked about is one that has merit and we shouldn't lose sight of that.
"The planning convener will be following up with officers directly to work out exactly what happened.
"It's important that applications which have a strategic importance are given permission through our elected member process."
Related Internet Links
The BBC is not responsible for the content of external sites.