Council sorry for missed bin collections in Edinburgh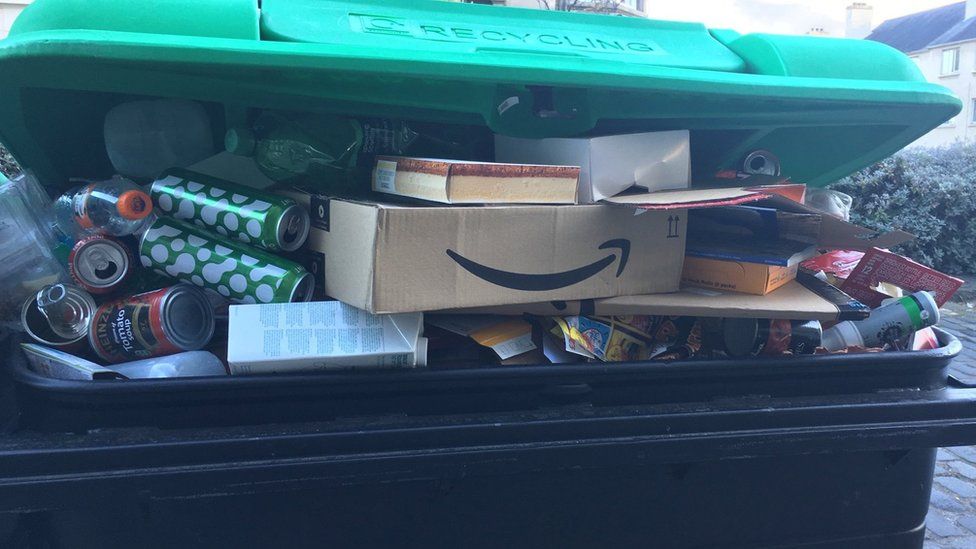 A council chief has apologised after receiving thousands of complaints about new waste collections in Edinburgh.
City of Edinburgh Council received 1,703 missed collection complaints and more than 5,000 calls from residents over three weeks.
The council had on average been receiving 400 weekly complaints before the service was changed.
The council said it was working "extremely hard to rectify the situation".
Lesley Macinnes, transport and environment convener, publicly apologised for the problems.
She said: "I don't think anyone would be happy with the negative impact that some aspects of these collection changes have had on some parts of the city.
"It's clear that some residents have been negatively impacted on a temporary basis as we make this complex council-wide set of changes across our entire city - for that, I apologise.
"Officers are working extremely hard to rectify the situation and it would appear are making significant inroads in doing so."
Opposition councillors have raised concerns about lack of communication with residents over the widespread disruption.
Steve Burgess, Green environment spokesperson, said: "Getting bins emptied on time is one of the most basic jobs of the council, and it's essential we get that right.
"Delayed or missed bin collections can impact on litter and street cleanliness, and are not acceptable."
Liberal Democrat councillor Louise Young said the lack of communication had been "thoroughly unacceptable".
She added: "Communities in rural west Edinburgh have yet again been treated as second-class citizens.
"A decision was taken before the start of the interim collection weekend not to collect the bins in Queensferry or Krikliston or Cramond due to lack of resources.
"We've all been made to look like idiots putting our bins out for a week with the full knowledge of officers that nobody was actually coming."
Conservatives have also hit out at the problems - claiming residents had been told to dump any extra waste in communal bins instead.
The council said residents with kerbside collections were not being advised to use communal bins.
Related Internet Links
The BBC is not responsible for the content of external sites.