Edinburgh University hails rise in students from disadvantaged areas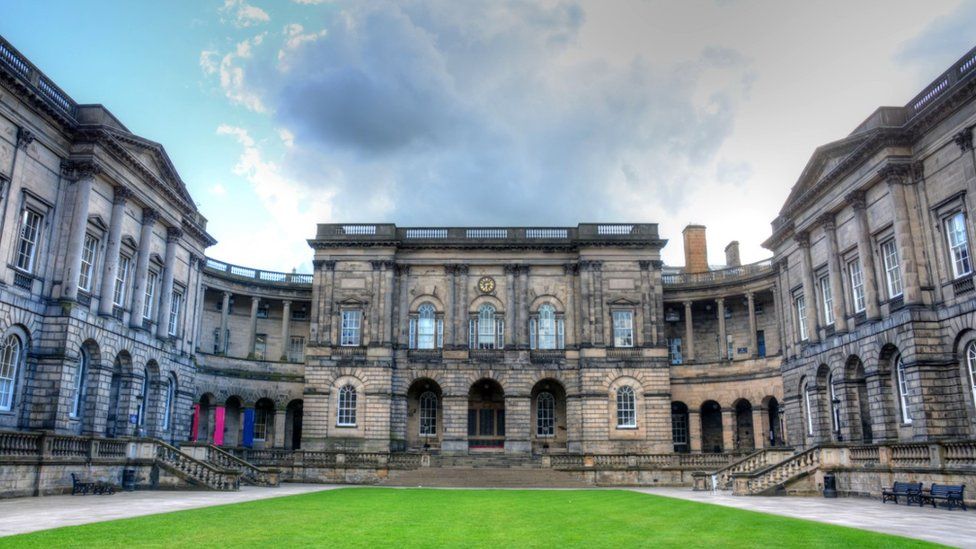 One of Scotland's most renowned universities is hailing a big increase in the number of new students from disadvantaged areas.
Edinburgh University said 11% of its new undergraduate students this year were from the most deprived parts of Scotland.
It means the university has met a government target three years early.
It said the figures were a "springboard for further action" with more work needed to meet long-term targets.
The university revealed the figures as it gave details of its plans to continue to try to attract more people from disadvantaged areas.
The Scottish government wants a fifth of students at every university to come from Scotland's most deprived postcode areas - so-called SIMD20 areas - by 2030.
Individual institutions have interim targets to meet too.
Edinburgh said 195 of those accepted to the university this year were from SIMD20 areas, representing 11% of its intake of full-time students from Scotland.
It said several initiatives have helped including longstanding outreach programmes and increased support for applicants and new students.
Prof Peter Mathieson, University of Edinburgh principal and vice chancellor, said: "These figures are a springboard for further action.
"While we welcome the news that we have met the figures set by the Scottish government, the university will continue to strive to encourage more people from disadvantaged backgrounds to consider higher education at Edinburgh.
"Our strategy pushes us to not only further widen access to our institution, but also ensure that those students are supported in their transition, their academic journey, and their progression onto a satisfying career or further study."
The new strategy builds on Edinburgh's existing approach. It includes a schools partnership, part-time access routes for adult learners and funding to support students who commute to the university.
The 'underprivileged kid' who became a university boss
The most recent national statistics which are available show that in 2016-17, 14.2% of Scottish university students came from SIMD20 areas but the proportions varied significantly between institutions.
More than a fifth of students at the University of the West of Scotland, Glasgow Caledonian University and Glasgow School of Art came from SIMD20 areas. But just 4.9% of Aberdeen University students came from these areas.
Broadly speaking the institutions which became universities in the 1990s have more students from disadvantaged areas than their older counterparts.
In 2016-17, 7.3% of all Edinburgh University undergraduates came from SIMD20 areas.
Of the four ancient universities - institutions which were universities before the expansion of higher education in the 1960s - only Glasgow had a higher proportion of SIMD20 students.
Education Secretary John Swinney said: "This year we saw a record number of students from Scotland's most disadvantaged areas successfully gain a place at university, the third year in a row a new record has been set.
"I'm delighted to note the positive progress the University of Edinburgh is making on widening access.
"Its Widening Participation Strategy will build on this success to further encourage people from disadvantaged backgrounds to consider higher education."
Related Internet Links
The BBC is not responsible for the content of external sites.