Loganair adds four new routes from Edinburgh Airport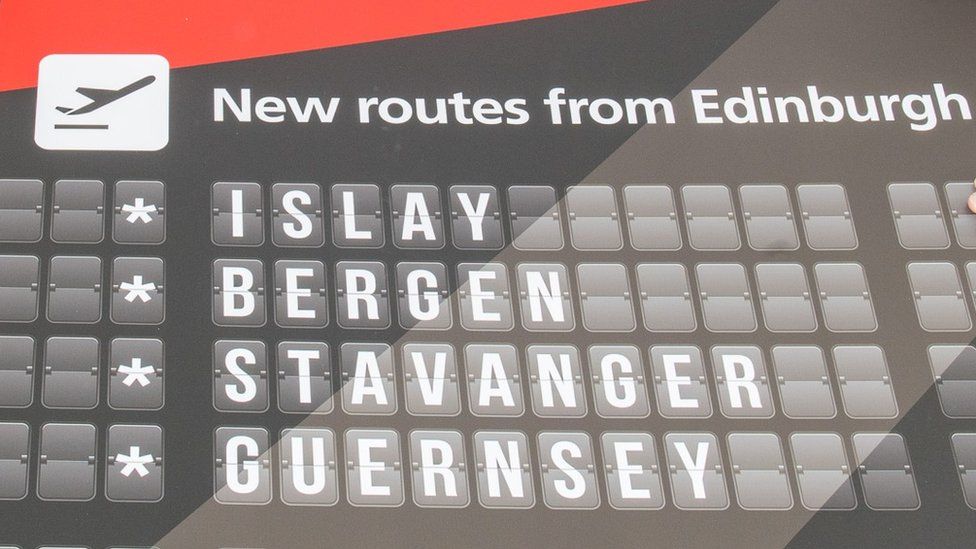 Scottish airline Loganair is to launch four new routes as part of its summer schedule.
The routes include year-round services to Norwegian cities Bergen and Stavanger, as well as to the island of Islay.
A seasonal link between Edinburgh and Guernsey will also operate.
Bergen, Stavanger and Guernsey will each be operated by the newly acquired 37-seat Embraer 135 jet, the latest addition to Loganair's fleet.
Stavanger will become Loganair's second destination in Norway with four flights each week from Edinburgh.
Flights to Bergen - dubbed the gateway to the Fjords - will operate three times each week.
A 34-seat aircraft will fly the Edinburgh to Islay route - the capital city's first ever scheduled air link to the Inner Hebrides.
Loganair also plans to increase the frequency of flights between Edinburgh and the Isle of Man, adding an extra service throughout the summer.
Edinburgh to Guernsey will operate on Saturdays from 11 May to 14 September.
Jonathan Hinkles, managing director of Loganair, said: "I'm delighted to launch four brand new routes from Scotland's capital, significantly expanding our presence at Edinburgh.
"We know that Stavanger and Bergen will be of interest to both the leisure and corporate customer and have no doubt that both Islay and Guernsey will prove very popular to people looking for a holiday in these beautiful destinations."
Jonathan Rayner, aviation director at Edinburgh Airport, said: "This expansion will provide the opportunity to build business links in Norway as well as appeal to those looking for a leisurely break and we're excited to see these routes develop."
Related Internet Links
The BBC is not responsible for the content of external sites.