Eleven teachers sent home after refusing to teach 'unruly pupils'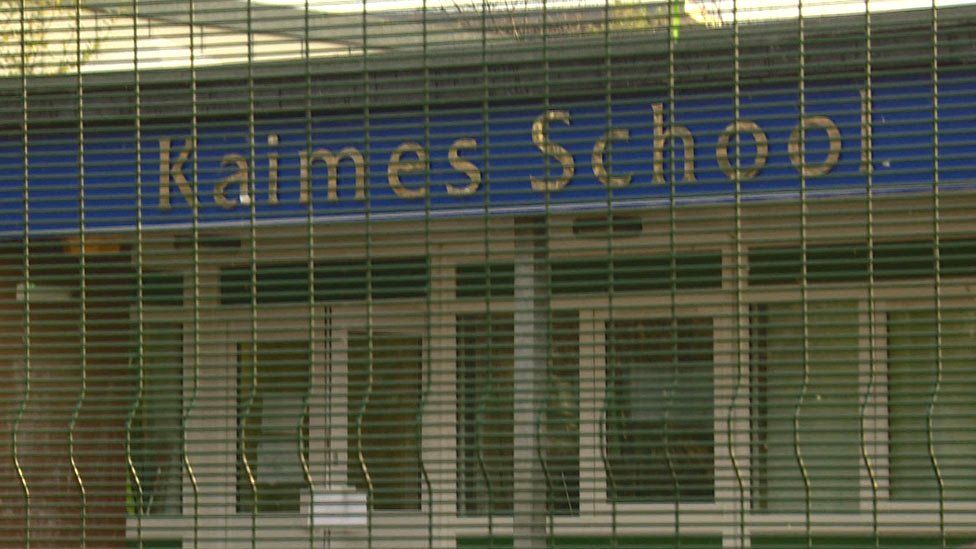 Teachers at a school in Edinburgh have been sent home without pay after refusing to teach pupils they claim are violent and abusive.
A union has accused the city council of "bullying and intimidating" staff at Kaimes School in Liberton, a school for children with additional support needs.
Eleven teachers have refused to give lessons to eight pupils following physical and verbal assaults.
The council said it was wrong for staff to pick and choose who to teach.
The teachers are members of the NASUWT union, which earlier this year balloted for industrial action short of a strike by refusing to teach or supervise eight pupils who they believe pose a risk to health, safety and welfare.
Violent attacks are understood to have included chairs and signs thrown at teachers, causing injuries with police called in on some occasions.
The special school provides education for primary and secondary aged pupils who require support associated with autism. It has six primary classes, 10 secondary groups and has more than 80 staff. On average there are about six pupils per class.
"They refused to teach them because they had been assaulted so many times", said a source at the school. "There's just no control."
The eight students are understood to have spent last week in a class together with seven pupil support assistants.
"This is the first time this has ever happened in Scotland. A teacher has refused to teach one kid before but never eight," the source added.
"The assistants with the eight kids last week were just trying to keep them apart and stop them fighting. They were just running around the school swearing - it was just chaos."
Union officials are to meet Education Secretary John Swinney later to discuss the situation, after negotiations with the council broke down.
The council, however, insisted action was being taken to support staff at the school and said it was not acceptable for teachers to refuse to teach certain individuals.
A spokesman said: "An improvement action plan for Kaimes School has been developed in consultation with staff and subject to external expert scrutiny.
"This is in the very early stages of being implemented and would urge everyone to work with us as we take this plan forward.
"The council has been trying to engage with NASUWT at all levels to discuss any concerns they have and we are disappointed that they have failed to respond positively to date and decided on this course of action.
"We cannot have a situation where staff decide who they are and who they are not willing to teach as this would be contrary to their terms of employment.
"We remain committed to working with staff to ensure we improve attainment and well-being while also delivering a positive working environment for both teachers and pupils."
The council is urging the union to negotiate a solution, and has written to parents to update them on the situation.
Chris Keates, NASUWT general secretary, criticised the council's decision to send the teachers home, and accused the authority of failing in its "duty of care" to staff.
She said: "The teachers, and indeed other pupils at the school have, month after month, faced violent physical assaults, a constant stream of verbal abuse and threats and malicious allegations. Equipment has been smashed and classrooms trashed.
"Rather than supporting the teachers to deal with these pupils, City of Edinburgh Council instead has embarked on a campaign of aggressive and punitive actions towards the teachers, simply because they have dared to stand up for what is right.
"The council has sought to bully and intimidate the teachers in a meeting, has stopped all their salary and, despite the fact they are turning up to work each day willing and ready, not only to take their timetabled classes and teach the overwhelming majority of the pupils, but also to provide appropriate work for the eight pupils.
"They have been refused entry to their classrooms and told to leave the school premises."
A Scottish government spokesman said: "The situation at Kaimes School is a matter that can best be resolved by discussions between the City of Edinburgh council and NASUWT and we encourage both parties to negotiate a solution as soon as possible to allow the pupils education to continue."
Related Internet Links
The BBC is not responsible for the content of external sites.