Former student's parents give $10m to St Andrews University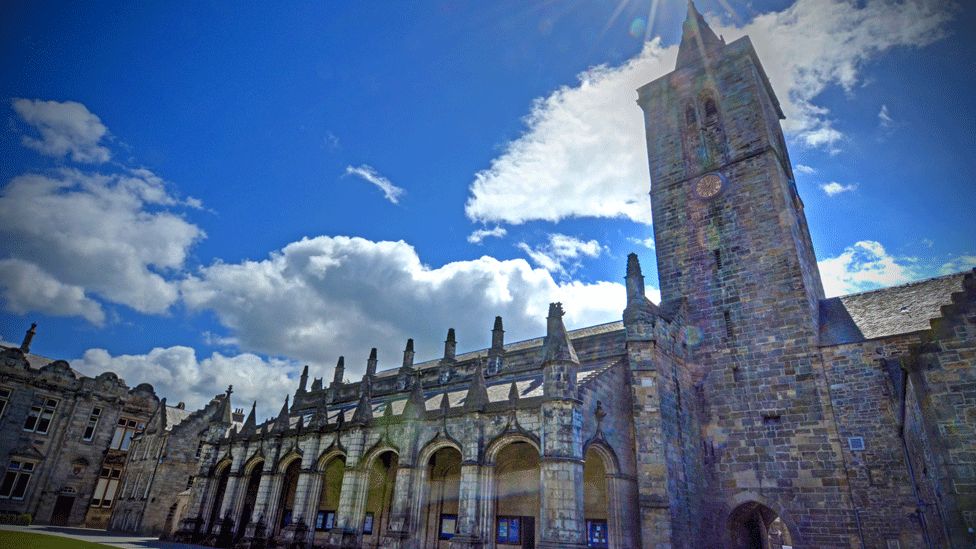 The University of St Andrews has received a $10m (£7.7m) gift from the parents of a former student.
The donation from Frank and Beverley MacInnis, who live in the US, is believed to be one of the biggest ever to a Scottish university.
Their son Robert graduated from the university with a PhD in 2010.
The sum is set to support the university's new Strategic Plan, aiming to strengthen its position in the UK's top five universities.
Robert's 2010 PhD followed his BSc in computer Science in 2005 also from St Andrews. In 2017 he got married in St Salvator's Chapel, St Andrews.
His father, Frank MacInnes said: "Beverley, a former teacher, and I recognise the transformative powers of education, and the important difference philanthropy can make.
"When we spoke to Principal Mapstone about her vision for St Andrews, we had an immediate sense of engagement with her plans for the university.
"We are delighted to make our family's support known at this time, and it brings us pleasure to help enable world leading research at St Andrews, both in marine science and in the latest neurological research in physics."
The university said it was a generous donation and it would be used specifically to support St Andrews' new Scottish Oceans Institute and a PhD scholarship in Physics and Astronomy.
This will represent a £16m investment for St Andrews which they said would place Scotland at the forefront of international marine research.
St Andrews Principal and Vice-Chancellor, Professor Sally Mapstone, said: "This wonderfully generous gift from Frank and Beverley MacInnis enables us to launch the new strategy for the University of St Andrews with confidence and strong belief.
"Frank and Beverley share our commitment to education, to our community, local, national, and international, and to transforming lives for the better. They are our friends and our advocates in equal measure."