Call for 'constructive' talks over Edinburgh unruly pupils row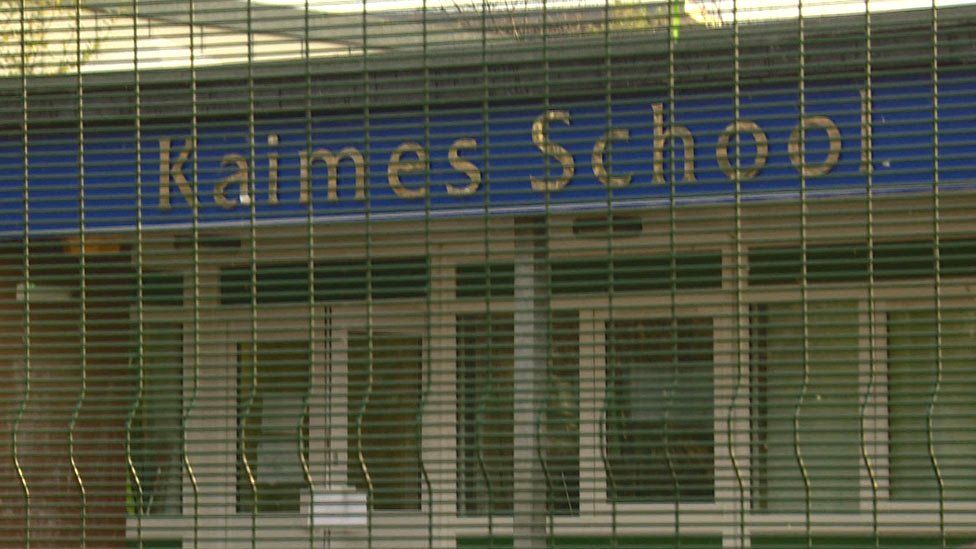 Union and council leaders have been encouraged to hold "constructive discussions" after 11 Edinburgh teachers were sent home without pay.
The Kaimes School staff were sent home when they refused to teach eight pupils they claim are violent and abusive.
Education Secretary John Swinney was briefed on the issue at the school for children with additional supported needs by the NASUWT on Wednesday.
The Scottish government urged both parties to negotiate a solution.
Both the City of Edinburgh Council and the union said they were willing to hold talks to resolve the situation.
The teachers are members of the NASUWT which balloted for industrial action short of a strike by refusing to teach or supervise eight pupils who they believe pose a risk to health, safety and welfare.
Violent attacks are understood to have included chairs and signs being thrown at teachers, causing injuries. Police were called in on some occasions.
Earlier talks between the union, the school and the council to address concerns over violent assaults broke down.
The special school provides education for primary and secondary aged pupils who require support associated with autism. It has six primary classes, 10 secondary groups and has more than 80 staff. On average there are about six pupils per class.
'Unnecessarily disrupted'
Chris Keates, the union's general secretary, said Mr Swinney "listened attentively" to points she raised about the situation at the school.
She added: "He said that this was an operational matter for the council but he would urge the NASUWT and the council to engage in constructive discussions to seek to resolve this issue.
"The NASUWT continues to be willing to engage in dialogue to secure a safe working environment for our members and indeed for the pupils in their care. We will be making further contact with the council to see if progress can be made."
A spokesman for Edinburgh City Council said it had also discussed the situation at Kaimes School with the education secretary.
He said: "Our executive director of communities and families had a frank and open conversation with Mr Swinney outlining the council's position.
"We are committed to working with staff at the school to ensure we improve attainment and wellbeing while also delivering a positive working environment for both teachers and pupils.
"An improvement action plan, developed in consultation with staff and subject to external expert scrutiny, is in place.
"Kaimes staff are dedicated professionals and we would urge the NASUWT and staff involved to sit down with us as soon as possible to resolve this situation."
A spokeswoman for the Scottish government said: "The situation at Kaimes School is a matter that can best be resolved by discussions between the City of Edinburgh Council and NASUWT and we encourage both parties to negotiate a solution as soon as possible to allow the pupils' education to continue."
Related Internet Links
The BBC is not responsible for the content of external sites.