Major upgrade plan for Edinburgh's botanic garden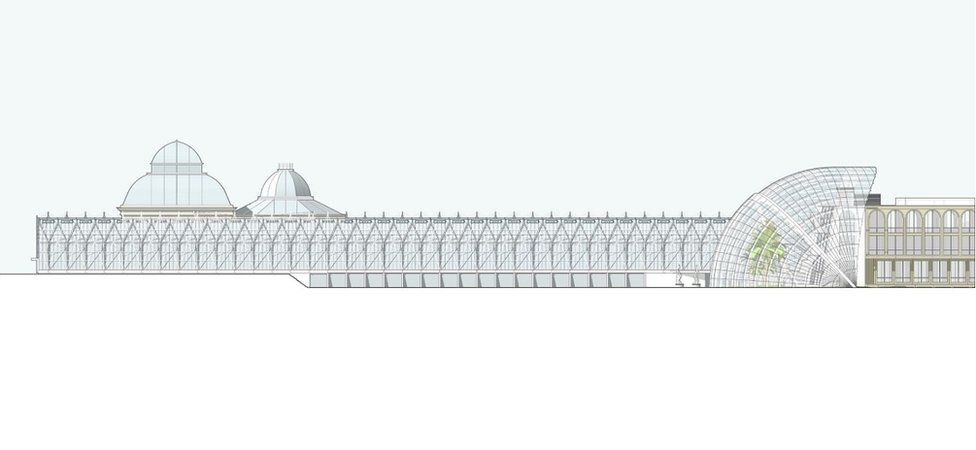 Ambitious plans have been unveiled to protect a globally important plant collection cultivated in Scotland.
The Royal Botanic Garden Edinburgh (RGBE) wants to refurbish and rebuild its ageing glasshouses.
And it has drawn up proposals for a new eco-friendly energy centre and a plant health suite to replace its existing nursery facilities.
Garden chiefs said the Edinburgh Biomes project was "potentially the most significant" in its history.
They claim their plans will safeguard the garden's work for future generations and provide a "spectacular" new visitor experience for the public.
Simon Milne, regius keeper of the RBGE, said the proposals would allow the garden to continue its pioneering work.
"At a time when 20% of the world's plant species are at risk from extinction our work is more important than ever," he added.
He said the glasshouses were at risk of falling victim to the elements and required extensive restoration so they could provide a safe environment for plants.
"Our research glasshouses, critical to the work we do in Scotland and around the world, are well beyond their lifespan and are already suffering during extreme weather," he said.
"They will only survive a few more years without essential upgrades. As the seasons pass, the risks are increasing, so prompt action is necessary."
Mr Milne added: "As part of this project and as guardians of one of the world's most significant scientific and horticultural resources, we will redevelop our facilities to sustain RBGE as a leader in plant science, horticulture, biodiversity, education and conservation and ensure our collection thrives for generations to come.
"Edinburgh Biomes has the vision and potential to attract, excite and engage people of all nationalities and walks of life.
"We appreciate its ambition and sincerely hope that the people of Edinburgh and Scotland will support and share our proposals to maintain our vital work."
The botanic gardens has a collection of more than 13,500 plant species, including many that are endangered or extinct in their native habitat.
A planned new plant health suite would replace existing facilities at the nursery to the north of the main garden.
The new energy centre will introduce ground source heat pumps which, coupled with new low heat loss pipework, will reduce the carbon footprint of the glasshouses by 12%.
RGBE said it received initial funding from the Scottish government to take the project to planning permission stage.
The next stage of the process includes a major fundraising appeal and a series of public consultations at the gardens.
If the plans are approved, the project would be a staged build to allow for decanting and relocation of seasonally sensitive plants over several years.
Related Internet Links
The BBC is not responsible for the content of external sites.