Mother and daughter graduate together from Napier University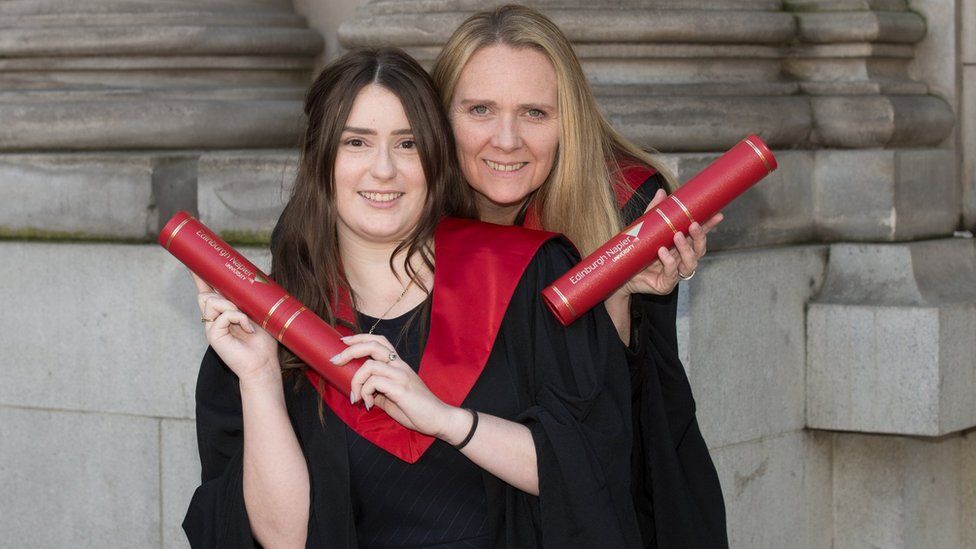 A mother and daughter have graduated together from Edinburgh Napier University with nursing degrees.
Kirstie and Kayleigh Tidy, from Livingston, sat in the same adult nursing classes as they pursued their career goals.
They began their university Bachelor of Nursing course in September 2015.
Daughter Kayleigh said they had travelled together to the university's Sighthill campus but had made their own friends there.
The 22-year-old wanted to do adult nursing after being impressed by the care her grandmother received after a cancer diagnosis.
She said that her mother doing the same course had been a good thing.
"My friends were shocked that my mother was on the same course and people were curious about how we got on," she said.
"Like a typical mother and daughter, we do get on together.
"We both got stressed around about exam times but it has been good to share the stress with someone who knows exactly what the issues are and what you are going through."
Her mother, Kirstie, 45, had previously worked in insurance but was also keen to work in the care sector.
Having been out of education since school she took an access course at Edinburgh college and was accepted into Napier.
"This is a lifetime ambition of mine as I have always wanted to help others and now, here I am in my forties, finally taking the plunge," she said.
She said that the pair spent time together in class but studied separately at home.
"It must have been quite challenging for my husband Steven and 16 year old son Logan, having two stressed-out students in the house studying for exams at the same time" she added.
The mother and daughter's personal development tutor, Emma Trotter said: "It was an absolute pleasure to work with the fantastic 'Team Tidy'.
"From quite early on I was aware of the strong bond between mum and daughter in their support for each other to achieve their individual and shared goals."
Kirstie said they are now looking forward to securing placements to launch their nursing careers.