Edinburgh man tells of bid to rescue drowning father and son in Australia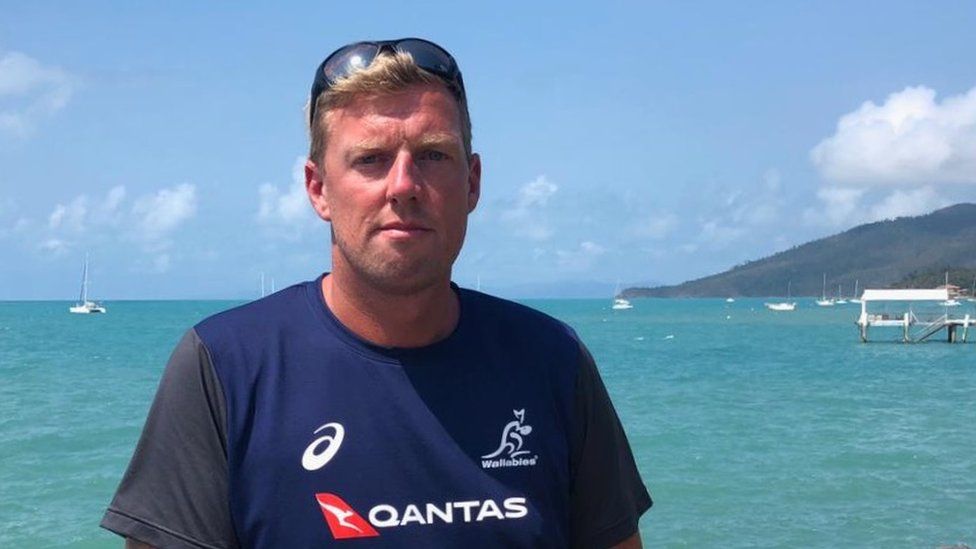 An Edinburgh man has told of the impossible decision he had to make when he was trying to resuscitate a man he pulled from a pool and he heard there was a boy also drowning in the water.
David Muir, 37, was at an outdoor pool at Airlie Beach on Australia's east coast, when he saw the 30-year-old submerged under the water on Sunday.
The rugby coach dragged the man out with the help of a lifeguard.
But while carrying out CPR he was told about a boy at the bottom of the pool.
Mr Muir told the BBC Scotland news website he had been working on the man for about five minutes when he heard a woman shout that there was another person drowning in the water.
He said: "I was administering compressions on his chest when a lady on my right yelled 'How long has that child been under the water for?'
"I turned around as I didn't expect to be dealing with two people and I could see a small person lying at the bottom of the pool.
"I was caught in two minds as to what to do. Do I stop doing what I'm doing and jump in or carry on?"
Mr Muir said two people then jumped in and pulled the boy out.
"He was completely lifeless," he said. "When the ambulance arrived for the man they saw I was helping him so they went straight to the boy.
"At one point I could see the boy vomit so I thought there was hope."
Mr Muir said he worked on the man for 40 minutes but had little hope that the man had survived.
Police later confirmed that the man and his son had both died.
Mr Muir, who owns Edinburgh dog kennel Bark n' Fly, said police told him the Chinese man had gone into the water with his five-year-old on his shoulders but had slipped and was unable to swim.
They had been under the water for about six minutes before they were pulled out.
Mr Muir said: "I don't know how this could have happened with lifeguards on duty in a controlled environment for them to have been submerged in the water for six minutes.
"I feel devastated that we couldn't do more to save his life. We worked really hard to revive him and it was a valiant team effort with a woman who had been passing by.
"Kneeling by the pool with two dead people is a really powerful image to take away from this. It was a very sad day and I'm very sorry for his wife and her as a mother. We tried everything we could in the time we had."
A Queensland Police spokeswoman said: "On 28 October at 4pm a 30-year-old man and a five-year-old boy, both from China, died after drowning in Airlie Beach lagoon.
"There are no suspicious circumstances."
Related Internet Links
The BBC is not responsible for the content of external sites.