Sheep fleeces used to make 'floating path' in the Pentland Hills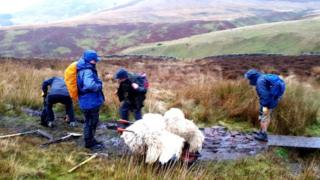 An ancient technique using sheep's wool to fix paths has been trialled in the Pentland Hills.
The special craft was used on an eroded section of Kirk Burn Path near Glencourse Reservoir.
Sheep fleeces were folded and rolled to create a "floating path" that was then layered with stones. The wool stops the stones from sinking into the mud.
The sheep fleece protects the peat and soil but allows water to drain more easily.
Ian Combe, a member of Friends of the Pentlands, told the BBC Scotland news website how the group used wheelbarrows to transport the fleeces to the eroded site.
He said: "We identified a very wet site within reasonable barrowing distance from a little quarry that we were able to access for aggregate and small rocks.
"A small supply of sheep fleece was donated by a local farmer.
"A contact of ours who has much experience of path work in the Mourne Mountains had heard stories of sheep fleece being used in the foundations of railway viaducts in the west of Ireland and other reports in the UK.
"So they gave it a go and found it is a very effective way of establishing a membrane over boggy areas.
"He recommended two to three fleeces per metre and then covering with aggregate or mineral soil straight on top of the fleece.
"We decided to double layer the fleeces, and worked on a three-metre section."
Large edging stones were set on the right-hand side to give shoring protection.