Children trapped by tide rescued from sea cave in Dunbar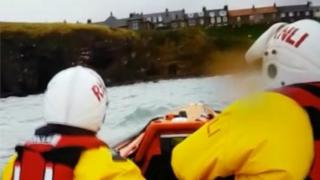 Three children have been rescued after being cut off by the tide in a sea cave in East Lothian.
The 12-year-old boy and two girls aged 11 and 12 had been playing in the Eye Cave at Dunbar when the tide came in and started to flood it.
They were trapped for nearly two hours before the boy called the police on 999 and the Coastguard was alerted.
The children were up to their ankles in water by the time two rescue teams reached them shortly after 14:30.
The Dunbar inshore lifeboat brought them to shore where they were reunited with their parents.
A spokesman for Dunbar RNLI said: "This incident showed how easy it can be to be cut off by the tide.
"The children were aware of the risks and usually checked the tide times but on this occasion they forgot. However they did the right thing by dialling 999 and asking for the Coastguard."
He added: "Getting cut off by the tide contributes to a significant number of RNLI rescues every year.
"The RNLI encourages everyone to enjoy the coastline safely and advises to check weather and tides before you set out, wear appropriate clothing and footwear and make sure you have a charged mobile phone with you."