Edinburgh Zoo panda Yang Guang has testicles removed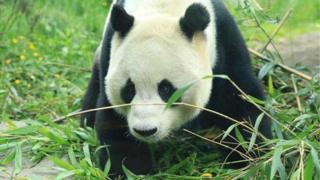 Edinburgh Zoo's male giant panda has had both testicles removed after tumours were discovered by keepers.
Yang Guang is said to be "recovering well" from the surgery, which took place on Saturday.
He had arrived at Edinburgh Zoo in 2011 with female Tian Tian as part of a conservation breeding programme, which was halted earlier this year.
The zoo said the tumours had not been a factor in the failure of the pandas to produce a cub.
Tian Tian and Yang Guang are the only giant pandas in the UK.
'Recovering well'
After years of failed attempts to produce a cub, the panda breeding programme was suspended earlier this year.
At the time, zoo officials said they wanted to make enhancements to the giant panda enclosure and take time to analyse the data before any future breeding attempts.
Darren McGarry, head of living collections at the zoo, said it would discuss the next steps, including future breeding possibilities, with its partners in China over coming weeks.
He added: "We are pleased Yang Guang is recovering well.
"Testicular tumours have previously been reported in giant pandas. The tumours we removed developed recently, so they have not been a factor in Yang Guang and Tian Tian not having had a cub."
Panda hopes
There was considerable diplomatic effort on the part of the Scottish and UK governments to bring the pandas to Edinburgh Zoo seven years ago.
The zoo argued that they had suitable staff and could call on outside experts who would work together on panda breeding and conservation.
The zoo had a financial arrangement with the Chinese authorities to keep Yang Guang and Tian Tian for 10 years at an annual fee of £600,000.
As part of the deal, any cubs would remain in Edinburgh for two years before being sent back to China.
In the first year after the arrival of the pandas, the zoo enjoyed a 50% increase in its visitor numbers.
A report from Scottish Enterprise estimated they would generate almost £28m for the Edinburgh economy during their 10-year stay, with an additional £19m being spent in the wider Scottish economy.