'Singing' postbox brings festive cheer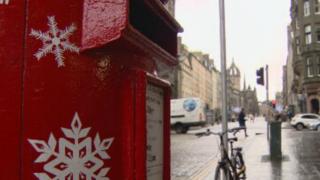 Edinburgh has been chosen as one of four cities to host one of Royal Mail's "singing postboxes".
People using a box on the Royal Mile will be greeted with festive tunes or well wishes from Father Christmas, once a card or letter is posted.
Other modified postboxes have been revealed in Belfast, London and Cardiff, but more could "pop up" before Christmas.
The box will stay in place on High Street for the entire festive season.
Julie Pirone, of Royal Mail said: "This is our busiest time of year, so just to make it a bit more festive we thought we would put four boxes around the UK where people can get some Christmas cheer.
"Santa might wish you a merry Christmas, you might hear sleigh-bells or just some nice festive tunes as you post your cards."