Firm to pay for Edinburgh school repairs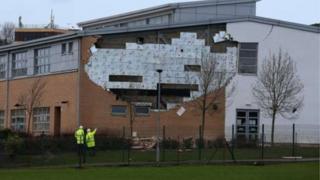 The firm involved in the closure of 17 Edinburgh schools will pay for the city council's costs.
A proposed settlement has been reached between council leaders and Edinburgh Schools Partnership (ESP) and will be debated next week.
The schools were closed over safety concerns after a wall collapsed at Oxgangs Primary School in 2016.
It is understood the costs run into several million pounds however the exact figure will not be made public.
In February this year, an Oxgangs pupil was struck by a ceiling tile while the roof of the building suffered damage in April.
The ESP previously defended its maintenance record, saying the safety of children and staff in its building was its "primary concern."
As well as meeting costs of structural repairs, the consortium has also agreed to the following terms:
give a lump sum to meet any future expenses
keep some schools open after hours for sports and leisure activities at no extra cost
a new independent inspection and monitoring regime throughout the PPP1 school estate
'Positive development'
Both sides welcomed the proposals saying they had worked together to avoid lengthy action and more expense.
Council leader Adam McVey said: "This has been a lengthy and complex process but I'm pleased that we've been able to reach an agreement with ESP.
"This settlement provides significant benefits to our schools and local communities and crucially means the works carried out on the PPP1 schools came at no cost to the Council.
"There will now be additional inspections on the PPP1 buildings and increased opening hours for those facilities.
"Reaching this agreement also means we can avoid potential lengthy and costly legal proceedings for both parties and return to our focus of providing world-class facilities for our young people."
A spokesperson for Edinburgh Schools Partnership said: "This is a significant and positive development for all of the schools impacted by the closures in 2016.
"As the council report shows we have made strenuous efforts to reach an agreement that reflects our commitment to work in partnership with the council and avoids the need for difficult and expensive legal action.
"In particular, the contractual enhancements to the existing monitoring framework provide the basis for ESP and our suppliers to continue the process of restoring confidence to pupils, parents and staff.
"We would like to reiterate our apologies to all those affected by the closures and say again that the safety of the children and staff throughout the PPP1 school estate remains our primary concern."