Livingston computer factory lays off 310 workers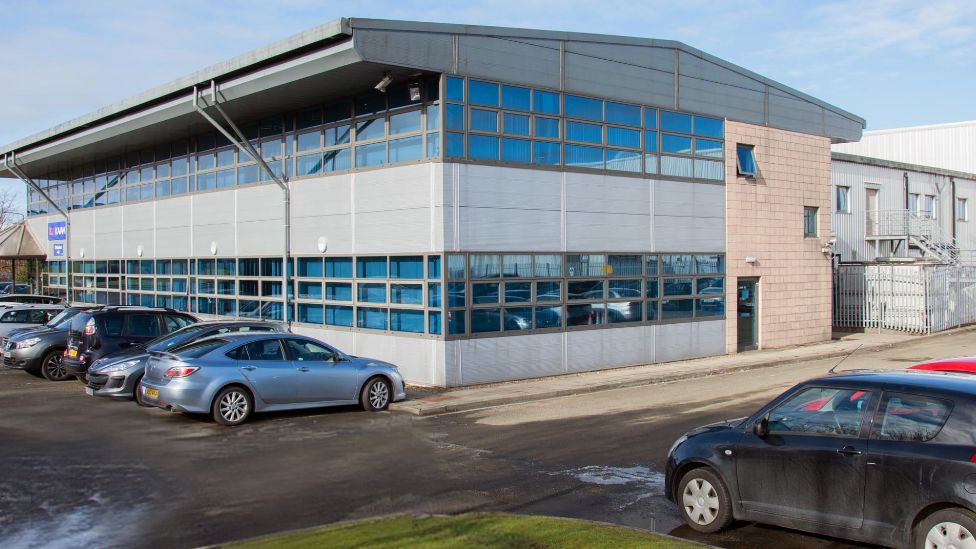 More than 300 workers at a computer factory in West Lothian have been made redundant.
Staff were informed at a meeting on Monday by administrators that the Kaiam factory in Livingston would be mothballed.
The workforce learned last week that they would not be paid wages expected before Christmas.
Administrators from KPMG said they were still hoping to find a buyer for the plant.
In a statement, the administrators said trading losses, a lack of any "material customer orders" and costs in operating the factory meant they had no option but to make 310 of the 338 employees redundant with immediate effect.
The remaining 28 employees have been kept on to help the administrators "explore a sale of the business."
Nicole Morrison and Nancy Payton, who both worked at the site, said they arrived at work and were told they were not getting paid.
Ms Morrison said: "We've got information packs on how to claim from the dole and how to claim for the benefits.
"That's what they've gave us on our arrival and that's it."
Ms Payton added: "We'll not get any money for what three months, two or three months."
Joint administrator Blair Nimmo said: "We fully recognise that redundancies at this time of year are particularly difficult.
"Our main focus during this challenging period is to work with all affected employees alongside Scottish Enterprise, Skills Development Scotland and West Lothian Council to ensure that the full range of support is available to them."
He added: "Partnership Action for Continuing Employment (PACE), the Scottish government's partnership framework for responding to redundancy situations, has already mobilised and can be contacted on 0800 917 8000 for support.
"We are also liaising with the UK government in relation to the timing of redundancy payments via the Insolvency Service."
Earlier, Livingston MP Hannah Bardell pledged to "strain every sinew" to look for opportunities for Kaiam and their workers.
The SNP MP told BBC Radio Scotland's Good Morning Scotland programme that it was a "terrible shame" that the firm did not ask for help at an earlier stage.
Kaiam was given a £850,000 Scottish Enterprise grant in 2014 to relocate some of its production from a site in China to Livingston.
"They have £4m on their order book so there's work there to be done but at the moment they can't pay their bills," Ms Bardell added.
MSP for the Lothians Neil Findlay said he was "sickened and absolutely outraged" by the news.
He added: "You've got 300 families who have been shafted by their employer in the run up to Christmas. It's absolutely outrageous what has gone on."
Administrators have advised redundant employees that they will not receive their December 2018 salary and will have to claim this from the UK government's insolvency service.
Business, fair work and skills minister Jamie Hepburn pledged to write to the government to accelerate payments for workers from the usual four to six weeks.
He added: "The employees affected by today's announcement from Kaiam Livingston are our immediate priority and we will do everything in our power to help those affected by redundancy. It is an especially difficult time of the year for employees to learn such news.
"Scottish Enterprise has been working closely with Kaiam to explore all possible options to support the business and its staff, and I am disappointed that a solution could not be found to turn the company's situation around.
"Scottish Enterprise will work with the administrators to understand the potential options for the business going forward and explore all possibilities to rescue the jobs.
"Our PACE team were present at the meeting and stand ready to offer their full support to staff to help them find alternative employment.
"PACE has a strong track record in doing that, and I hope the affected staff can take at least some reassurance from that."
Meanwhile, local people and businesses have made thousands of pounds worth of donations to help employees who missed out on their Christmas pay.
The community response was led by Emma Black, whose step-father is employed by Kaiam.
She set up a Facebook group appealing for help for those affected, and over the weekend thousands of donations were left a community centre in Livingston.
Ms Black told BBC Scotland that her step-father received a phone call last week telling him that he would not receive his December wages.
She said: "Nobody expects anything like this to happen at any time of the year but definitely not the day you get your Christmas wage which is paying for your kids' presents, your Christmas dinner. It's just been absolute shock to everybody."
But she said the volume of donations received from local people had been "overwhelming".
"It's been such an emotional weekend," she said. "People are so, so grateful. The amount of people who have come over and given me a wee cuddle and we've both had a wee cry because it's just so emotional. They're so, so unbelievably grateful."
Thousands of pounds has also been raised by a JustGiving crowdfunding appeal.
Related Internet Links
The BBC is not responsible for the content of external sites.