Edinburgh's Hogmanay: New Year revellers warned off using drones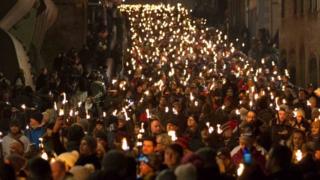 Edinburgh Hogmanay revellers have been warned by police not to use drones to film the street celebrations.
Officers will be patrolling "known locations" where the small aircraft could be flown.
Ch Supt Kenny MacDonald said ensuring the safety of the thousands expected to see in the New Year was vital.
Hogmanay events are being kicked off on Sunday with pipe, drum and dance bands leading the annual Torchlight Procession.
Other highlights over the three days include the famous Street Party, the Concert in the Gardens and a ceilidh in the shadow of Edinburgh Castle.
More than 160,000 people are expected to descend on Scotland's capital for the various outdoor gatherings.
It is illegal for unmanned aircraft to be flown within 150m (492ft) of a congested area or a large group of people.
To comply with that rule, a no-fly zone is in force during the Hogmanay celebrations.
In the UK, legislation came into force in July, making it illegal to fly a drone within 1km (0.62 miles) of an airport. It is also illegal to fly a drone higher than 400ft (120m).
Public safety
Before the Christmas holiday drone activity led to flights to and from London's Gatwick Airport being grounded.
About 1,000 flights were affected during the airport's 36 hours of chaos.
Ch Supt MacDonald told BBC Scotland: "Our position remains the same as it has done in previous years where there is a no fly zone in place for both the torchlight event and the street party and that is really about public safety to make sure there are no drones flying over particularly crowded areas of the event.
"Legally they [drone operators] would be committing an offence. We have observers in place both for crowd dynamics but they will also be looking out for drones and we also have officers who will be patrolling known locations where potentially drones could be flown from."
Organisers are hoping the festivities will be be problem-free.
Thousands are expected to be entertained by Scottish singer Stephanie Cheape who will headline the finale of the Torchlight Procession, ahead of fireworks from Calton Hill at 21:00.
Other events include;
Marking the end of Scotland's Year of the Young People, with 14 wicker sculptures created by young people forming apart of a flaming outline of Scotland created by torchbearers in Holyrood Park.
Franz Ferdinand headlining the Concert in the Gardens on Hogmanay while DJs The Mac Twins will host the Street Party event.
The annual Loony Dook will see brave bathers charge into the Firth of Forth on New Year's Day.
The Message from the Skies event will also be held on 1 January.
To mark the year of Brexit, six Scottish writers were asked to each write a love letter to Europe with these then projected onto iconic buildings and landmarks around Edinburgh animated by a range of different composers and projection artists.
Charlie Wood and Ed Bartlam, directors of Edinburgh's Hogmanay said: "The Torchlight Procession is an iconic event in Scotland's annual calendar enjoyed by tens of thousands of people as the opening of Edinburgh's Hogmanay.
"After last year's successful change of route to weave through the Old Town and its blazing finale celebrating the voice of Scotland's young people we are thrilled that this year's procession culminates in the torchbearers creating the outline of Scotland with sculptures chosen by Scotland's young people at the heart of the display, marking the end of its highly successful Year of Young People.
"This year's Edinburgh's Hogmanay has a fantastic line-up of events for young and old under the banner We Love You, a celebration of Scotland's long-standing cultural ties with Europe.
"From our Concert in the Gardens headliner Franz Ferdinand to Carlos Nunez at the McEwan Hall, Massaoke at Bairns Afore to Gerry Cinnamon and Snap! at the Street Party, and the Loony Dook to our six writers creating love letters to Europe in Message from the Skies across the city, the programme is diverse, exciting and fresh."