Fire at St Andrews University science building 'was accidental'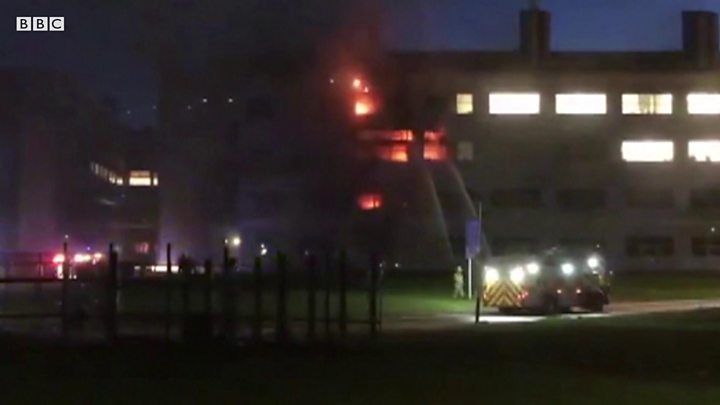 A blaze in a science block at the University of St Andrews was started accidentally, police have confirmed.
More than 30 firefighters tackled the blaze in the biomedical building, which is considered "world-class centre of excellence" for medical research.
Crews were alerted to the fire involving suspected hazardous materials shortly before 17:00 on Sunday.
The fire service said the four-storey building was evacuated and there were no casualties.
Shortly before 23:00, they said the fire had been extinguished.
Police Scotland confirmed on Monday afternoon that the fire had been started accidentally.
A force spokesman said: "Thankfully, no one was injured and students, staff and locals are thanked for their cooperation with emergency services.
"No further police action is required and the matter has been referred to the university."
At its height, eight fire engines including a height appliance were involved in the operation.
One concern had been over hazardous chemicals stored in a building used for scientific research.
However, The Scottish Fire and Rescue Service said its crews were "well equipped to deal with that eventuality".
The university described the fire in the building in North Haugh as "serious".
The centre is regarded by university leaders as a "world-class centre of excellence" for research in areas such as antibiotic resistance and infectious diseases.
It is feared some of that critical research may have been lost in the blaze.
A spokesman for the university said: "This could be devastating for people's work and we'll do whatever we can to preserve those materials and allow the research to continue."
The building, which was built in the 1990s, is shared by the university's schools of chemistry and biology.
About 100 staff and postgraduate students work in its labs, where medically-focused research in organic and synthetic chemistry, virology and microbiology is carried out.