Bradley Welsh: 'Firearms are very prevalent in Scotland'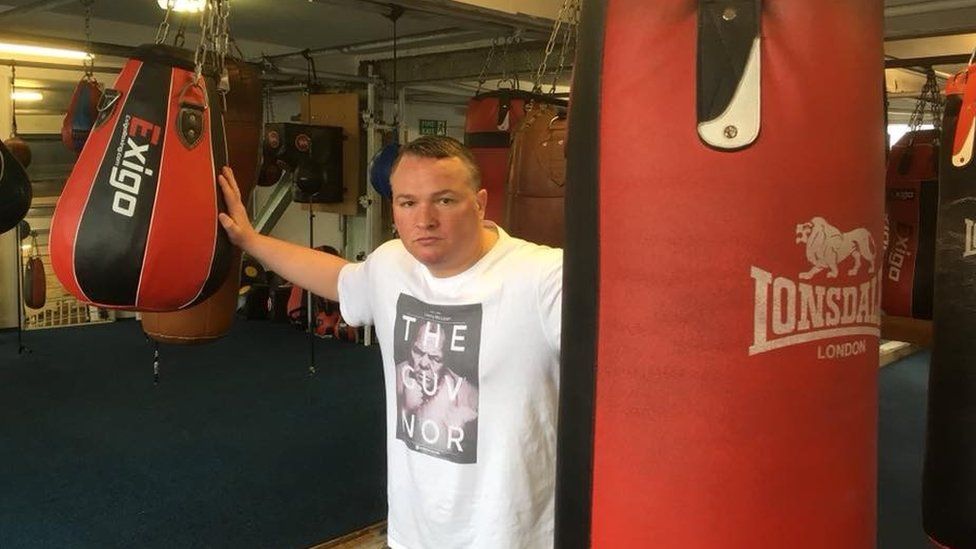 Just two months before he was fatally injured in a shooting, Bradley Welsh spoke about an increase in firearms in Scotland.
Mr Welsh, 48, who ran a boxing gym and appeared in the Trainspotting sequel, died after being found seriously injured in Edinburgh's west end on Wednesday night.
He was well-known in the city as a former boxer, Hibs football casual and reformed criminal.
Speaking to reality star James English, he said: "For 20 years I have been doing nothing but good."
He told the interviewer that he spent four years in Saughton Prison in Edinburgh for extorting an estate agent.
But he said young people in the city were now falling into "a very high order criminal life", for which they were receiving sentences of 15-20 years.
He blamed a "massive drugs culture" and said firearms were "very prevalent" in the capital and across Scotland.
"And that seems to be the new game," he said. "And these are young boys at 18, 19-years-old, who are international criminals.
"They're dealing in four or five different [countries] from Spain, Argentina, all over Europe - Amsterdam. They're not just dealing in Possilpark, they're everywhere.
"It's a different game, and it's hard to preach to a young guy."
Devastated to hear the news that my good friend brad welsh life has been taken 💔😢

The work brad was doing for his community was second to none.

Edirbugh has lost a true legend 💚

My thoughts and prayers go out to brads family 🙏🏼

Rest easy brother 💚💚 pic.twitter.com/GrHuSPPsls

— James English (@jamesenglish0) April 18, 2019
During the interview, Mr Welsh said he grew up with his mother and his brother in a housing scheme in Moredun, in the south of Edinburgh.
He started boxing as a seven-year-old at Meadowbank and had taken part in 200 fights by the time he was a teenager.
But he said that he fell into gang culture before he turned 10, and by the time he was 13 he was a football casual.
"I was just there at that time," he said. "I wasn't the leader behind it, I wasn't the person that made it. It just evolved - not just in Edinburgh, but in Glasgow, Aberdeen, Dundee."
He described his experience in the early 1980s in an episode of the documentary Danny Dyer's Deadliest Men.
"On the same day I was winning Scottish [boxing] titles, I was running away from competitions, jumping on buses from Meadowbank, up to the football and then fighting on the streets," Mr Welsh said.
And in an effort to maintain the right image and wear the latest fashion, he carried out "smash and grab" raids on Jenner's department store.
He claimed that, at one point, they raided the store up to 20 times in one year.
He told James English: "I'm not proud of the levels of violence. I'm anti-violence now. I am a poacher-turned-gamekeeper but the person that I am is made from the experiences that I have had."
He later became involved in organising security at hundreds of clubs in Edinburgh.
He told the Danny Dyer programme: "I was 17 years old, just turning 18, and I thought I was Don Corleone.
"I thought this is it, I can do whatever I want. I was fearless. I was being perditious to people, overpowering people - it was a kick."
When he ended up in prison, aged 18, he said he quickly realised "this wasn't for me".
"I just knew from the second I was in there that I had to get out of there and the only way to do that was to get back into the only way I knew was right - my boxing," he told James English.
After spending some time as a professional boxer, he said he set up the Holyrood Boxing Gym 13 years ago to help young people in his home city avoid a life of crime.
"I opened an amateur boxing gym to give kids the opportunity to use physical fitness and boxing training to better themselves," he said.
But he insisted he did not preach to the children in his care.
"I don't preach to people but I do show a different way," he said.
Two years ago the gym-owner landed a role in T2 - the second Trainspotting film - alongside movie stars including Ewan McGregor and Robert Carlyle.
He told the Edinburgh Evening News the opportunity arose after his friend, author Irvine Welsh, brought director Danny Boyle and screenwriter John Hodge to the gym.
They asked him to audition for the role of a gangland boss and sauna owner.
"I thought, 'I can do that. No problem'," he told the paper. "Gallus as anything. I thought, 'I'll get in there, read a script, adapt it and just be myself; everybody else seems to just be themselves in every film you ever see'."
Despite the success of the film, his gym, and the passing of more than two decades, he also admitted that his past was never far away.
"It's always with me but I don't have to atone myself for anybody," he said. "The things I did, they were wrong, but I understand why I did them, because I had [nothing].
"Of course, I regret them. I have a daughter and a wee boy who is like a son to me, and I want a better society. That's why I do what I do."