Council insists 'dead deer' found in Edinburgh's Princes Street is fox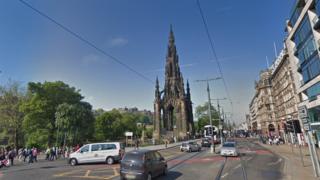 A "dead deer" found by a councillor in Edinburgh's Princes Street was a dead fox, according to council officials.
It was found near Princes Mall by councillor Joanna Mowat as she travelled to work at 08:45.
She said she was concerned it could be evidence of deer living in nearby Princes Street Gardens.
But despite the council's statement, Ms Mowat insists what she reported to the council was definitely not a fox.
She told the BBC Scotland news website: "I saw two long skinny legs with grey fur and hooves at the end and an ear that was rounded, not pointed like a fox's.
"I reported it at 08:45 and I believe they did not get there until about 10:00.
"I think that after all the buses and cars, they couldn't identify what was on the road."
Ms Mowat was concerned it would pose a serious issue for traffic on nearby roads if deer were living in Princes Street Gardens.
She said members of the public had tweeted her to say they had seen deer on The Mound.
She said she had found many creatures dead in her city centre ward including a dead buzzard on Market Street 18 months ago.