Sink hole appears in Edinburgh city centre road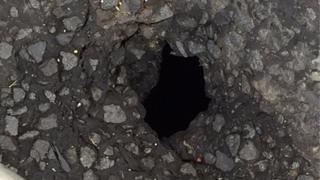 An Edinburgh street has been closed after a sink hole appeared in the middle of the road.
Broughton Road, near Canonmills, is closed to traffic between East Claremont Street and Logie Green Road.
Officials used the full length of a broom handle to work out how deep the hole was. The hole is about as wide as a mobile phone.
Council officials are currently investigating the cause of the hole and work is under way to fix the problem.
Lesley Macinnes, City of Edinburgh Council's transport and environment convener, said: "We are currently investigating the cause and extent of damage to Broughton Road, which was reported at the weekend.
"We have temporarily closed the street in both directions between East Claremont and Beaverhall Road in order to allow the full investigation to be carried out.
"This will undoubtedly cause some inconvenience but I hope that everyone will understand that we cannot risk leaving the street open until we have established the cause and whether it is safe for all users."