Police search launched for escaped prisoner from Dunfermline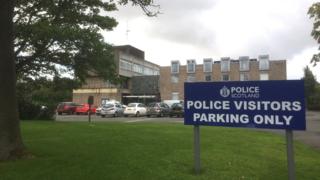 Police have launched a search for an escaped prisoner in Fife.
The 33-year-old managed to escape from GeoAmey security guards at Dunfermline police station at about 09:10.
While the offender was being taken to a vehicle, the escorting officer was knocked to the ground, which allowed the man to escape custody.
GeoAmey said its officer did not sustain any serious injuries and has launched an investigation into the incident.
A police helicopter has been deployed over the town in a bid to find him.
"Inquiries to trace this male are ongoing," a Police Scotland spokesman said.