'Explosion' and fire at Edinburgh tenement block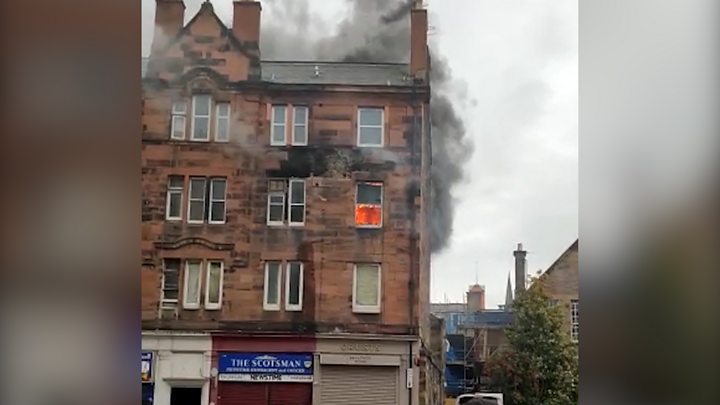 Firefighters have been tackling a blaze at a tenement block in Edinburgh after reports of an "explosion".
Crews were sent to a sandstone block in Fountainbridge, next to Tollcross Primary school, at about 17:00 on Tuesday.
Images posted on social media showed blocks strewn on the ground with masonry missing between the second and third floor.
The school and a part of Fountainbridge remained closed on Wednesday.
The Scottish Fire and Rescue Service (SFRS) sent a total of 11 appliances, including two height appliances.
A spokeswoman for SFRS said crews were searching the building.
Crews were still at the scene on Wednesday morning.
It is not known if there are any casualties.
Eyewitness Andrew McQuater, 21, said: "I was driving home from work when there was a massive explosion and bricks and rubble crashed down in front of my van.
"There was a huge cloud of dust and I couldn't see out of the window. The rubble landed in front of my van and created dents in the bodywork. I was shaking so much, I was just one metre away from death and the adrenalin was rushing through me."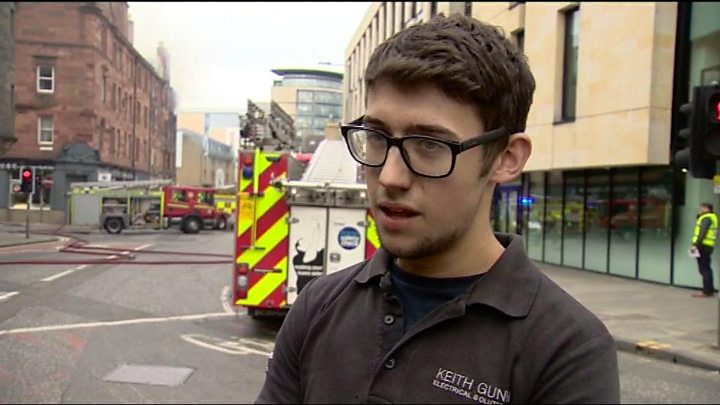 'Strong smell of gas'
The electrician said he got out of his vehicle and along with another man hammered on the door of the tenement building where the debris had fallen.
Mr McQuater added: "We kicked the door in and ran up the stairwell shouting fire. There was a very strong smell of gas by the time we reached the third floor so we had to leave. On our way back down the stairs we banged on all of the doors shouting fire, fire."
Mohamed Hossen, 26, a waiter in nearby Toro Latino restaurant, said: "I had just arrived at work. Five minutes later, I looked out of the window and it was all foggy and there was smoke everywhere.
"It looked like it was raining as there were bits falling out of the sky.
"I felt so bad that I couldn't do anything to help because the police had arrived and wouldn't let anyone past.
"I hope no one has died."
City of Edinburgh Council tweeted that Tollcross Primary, nursery and community centre would remain closed on Wednesday. They said updates would be given to parents and pupils.
Fountainbridge remained closed on Wednesday between Ponton Street and Gardner's Crescent.
Fears over the building's structure will see nearby streets remain closed off.
SFRS deputy assistant chief officer Alasdair Perry, the incident commander said: "On arrival crews were confronted with a well-developed fire and visible structural damage.
"Firefighters were committed to search the building and commence both internal and external firefighting.
"We are working with our colleagues in Police Scotland and a number of other partner agencies to resolve this incident and make the area safe.  
"I would like to thank all the firefighters and control staff involved in responding to this emergency and also our partners for their ongoing efforts.
"Due to the concern over the structural integrity of the building it is anticipated that the surrounding streets are likely to remain closed for a period of time".