Napoleon bedroom key found in Scotland sold for £81,900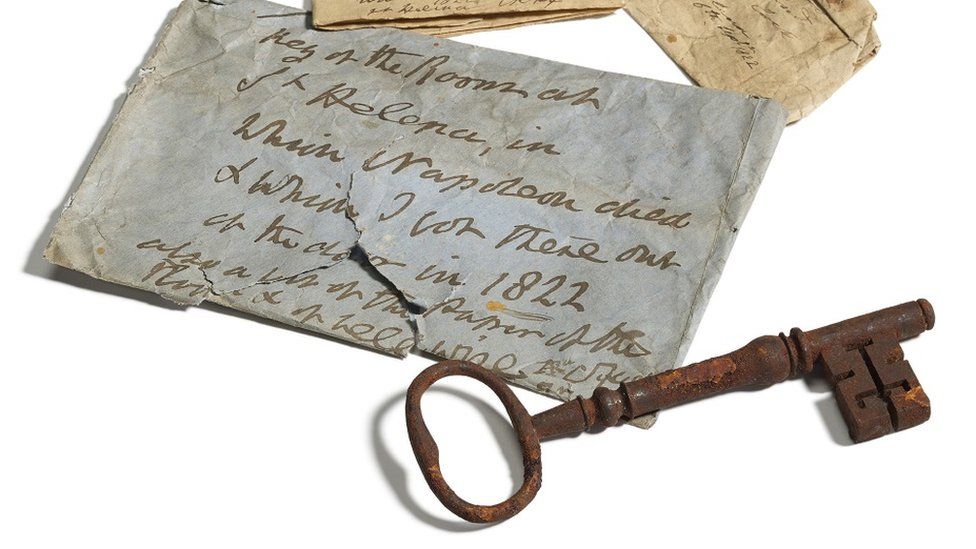 The key to Napoleon's prison bedroom has sold for £81,900 at auction after it was found in Scotland.
The French emperor was held as a prisoner of the British on the island of St Helena in the South Atlantic after his defeat at Waterloo.
He died in the room in 1821 and the key was taken by a British soldier and ended up in a house near Edinburgh.
It has been auctioned online by Sotheby's along with the envelope and notes it was found with.
The items were expected to sell for up to £5,000.
Soldier Charles Richard Fox took the key from its lock when he visited Napoleon's Longwood prison in 1822.
He gave it to his mother, Baroness Holland, a "super fan" of the Corsican-born former French statesman and military leader.
She already had a collection of items connected to Napoleon, including one of his socks.
David Macdonald, of Sotheby's, had described the key as "something otherworldly", adding: "It was as powerful and potent an object then as it is today."