Eighteen people charged over Edinburgh bus incidents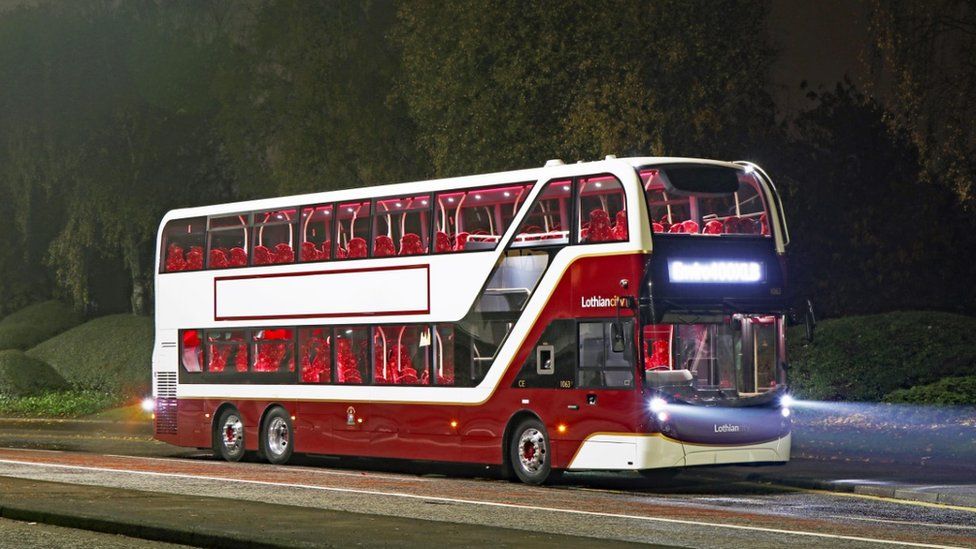 Police have charged 18 people in connection with a spree of anti-social behaviour incidents on buses in Edinburgh.
The latest figure comes as a number of vehicles were subjected to damage with large stones thrown at windows over Monday evening.
Police Scotland warned that such incidents could lead to "serious injury or even death".
The force has spoken to more than 140 young people about safety issues.
Police have been working with Lothian Buses to tackle anti-social behaviour through Operation Proust.
Officers have been patrolling on buses, in vehicles and on foot in the areas said to be affected by the incidents.
On Monday, youths attacked eight buses with rocks in two areas of Edinburgh in one night.
Lothian Buses was forced to suspend services following the attacks on moving vehicles on Gilmerton Road and Old Dalkeith Road between 19.25 and 20.50 on Monday.
And services into Clermiston were suspended for a weekend following a serious attack in Drumbrae on 5 March.
The driver of the bus from the Drumbrae attack, who wishes to remain anonymous, said: "I saw a youth coming to my side and he banged the side of the bus.
"Then I could see the rock coming towards my driver's window and it just shattered."
The driver was given an emergency appointment at the eye hospital and doctors said he had some abrasions to his cornea.
He added: "That night I couldn't sleep. I kept hearing the noises, the bang especially.
"Normally, I am a very confident person but this has wiped me out and even the thought of going on a bus is now causing me quite big problems."
This is what myself and colleagues are facing almost every night all across Edinburgh despite the assistance of police. Imagine a buggy or wheelchair user had been in that space .
What's your kid doing at night ? pic.twitter.com/vJVxy5da86

— Kwilson (@Kwilson26474601) March 16, 2021
Sarah Boyd, Lothian Buses operations director, said: "Lothian is absolutely committed to delivering for our customers and I am appalled that our colleagues on the frontline continue to be subjected to such irresponsible and dangerous acts of vandalism.
"I am even more disappointed that the individuals responsible chose to target buses serving the Royal Infirmary Hospital at a time when keyworkers, who rely heavily on our services, were either starting or finishing their shifts.
"As a direct result of these incidents, we were forced to withdraw our services from this area for a period of time to ensure the safety of our drivers and customers and we will not hesitate to take similar action again if necessary."
She added: "The lasting damage from these reckless acts can be life-changing for everyone involved and we continue to work with Police Scotland to ensure that those responsible are held accountable.
"We would like to thank our customers for their patience and apologise for any inconvenience caused."
'Completely senseless behaviour'
Ch Insp Sarah Taylor, local area commander for north-west Edinburgh, said: "This is completely senseless behaviour and could lead to serious injury or even death.
"I would ask those who did this, how would you feel if it was your family member sitting at that window that smashed, or your friend driving the vehicle that was hit with a rock?
"This behaviour must stop. We will continue to investigate these incidents and seek to ensure offenders are held accountable for their actions."
Related Internet Links
The BBC is not responsible for the content of external sites.