Covid in Scotland: Roll-out of Moderna vaccine begins in Glasgow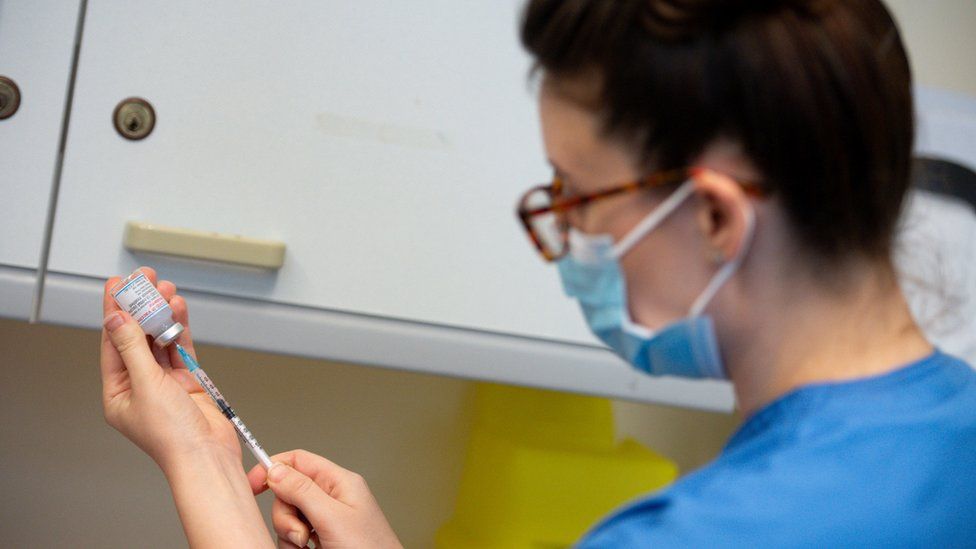 The UK's third coronavirus vaccine, the Moderna jab, has been administered in Scotland for the first time.
National clinical director Prof Jason Leitch said the vaccine had been given to patients at the Hydro in Glasgow.
It came as the Scottish government confirmed that under-30s will be offered an alternative to the AstraZeneca jab.
By the end of March, it found that 79 people had suffered rare blood clots after vaccination - 19 of whom had died.
The regulator said this was not proof the jab had caused the clots - but the link was getting firmer.
Meanwhile scientists developing a Covid vaccine being manufactured in Scotland reported a 90% immune response in early trials.
Biotech company Valneva tested its vaccine on 153 people and concluded it was safe and generally well tolerated.
The roll-out of the Moderna vaccine began in Wales, where unpaid carer Elle Taylor was the first to receive the jab.
Prof Leitch said "relatively low numbers" received the vaccine in Glasgow on Wednesday but its use will increase.
On the AstraZeneca vaccine, he stressed that its benefits outweigh its risks and it continues to be a safe and effective vaccine.
The 79 cases of blood clots and 19 deaths occurred after 20 million doses were administered - giving a risk of about four in one million of developing a blood clot, and one in a million of dying.
Prof Leitch said that the under 30s with no underlying health conditions would now be offered either a Moderna or Pfizer vaccine.
"We haven't started that group yet so we have time to plan and put in place what we will need in order to be able to them the two alternative vaccines we have just now and maybe in the not too distant future some other vaccines," he said.
His deputy, Nicola Steedman, said they were considering whether the move may affect the timescales of vaccination programme but they remain on track to offer first injections to all adults before the end of July.
"We continue to urge anyone offered a vaccination to take up their appointment," she added.
"Everyone who has received their first dose of the AstraZeneca vaccine should receive their second dose as this gives greater and longer lasting protection against the virus.
"This is with the exception of the very few individuals who have had a blood clot with low platelet counts after their first injection, or an allergic reaction."
Meanwhile, Valneva said it will move to phase three of its vaccine trials by testing up to 5,000 people, some of whom will be recruited in Scotland.
UK Health Secretary Matt Hancock said if approved, the vaccine would play an "important role" in protecting communities.
Valneva, which manufactures its Covid vaccine at a plant in Livingston, said the results of their phase one/two study showed the vaccine was "highly immunogenic with more than 90% of all study participants developing significant levels of antibodies" to the Covid virus spike protein.
Those who received a medium dose of the vaccine showed an 89.8% immune response, while people given a high dose showed a 100% response.
The vaccine also induced T-cell responses, which help the body fend off a virus and play a role in long-lasting immunity.
No safety concerns were identified by an independent data safety monitoring board.
Valneva's chief financial officer David Lawrence told the BBC's Good Morning Scotland programme that the results were a "major milestone" and that the company had started commercial production.
He said: "I think it's down to the design of the vaccine that we've made - we're following a very tried and tested technology.
"Now that we've got our production up and running we can tweak the production process to put in a different variant - we started working with the original Wuhan strain, but we can put in a South African strain.
"All of the trials we're doing should remind people its important for people to volunteer and participate in clinical trials."
UK Vaccines Minister Nadhim Zahawi described the results as "very promising" and said they provided renewed hope that a vaccine using a whole inactivated virus might provide strong protection against variants.