Saroj Lal: Legacy of teacher who was race relations trailblazer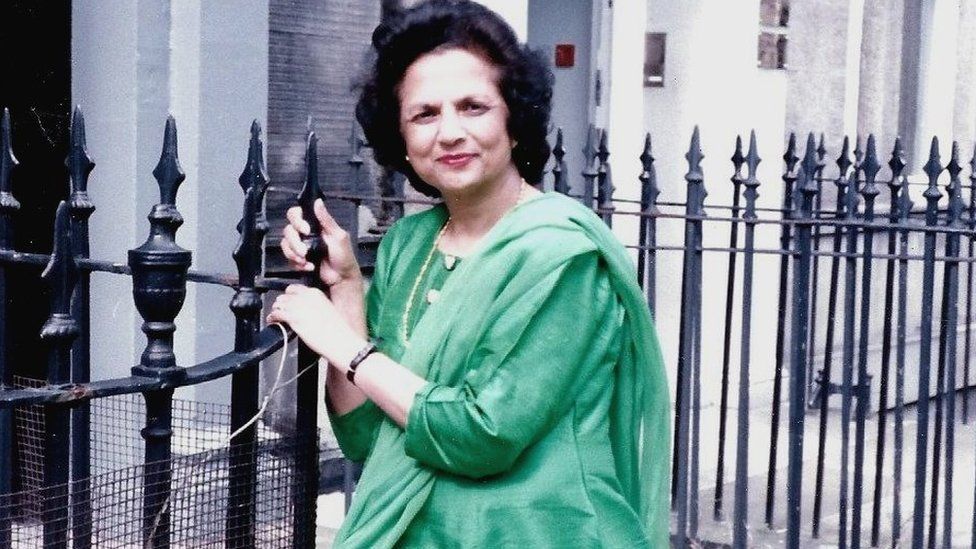 As one of the first Asian women to teach in a Scottish primary school, Saroj Lal, opened doors for women of colour in education. Following her death last year, aged 82, her trailblazing achievements in equality, women's rights and community work are being formally recognised.
As well as being one of the first Asian teachers in Edinburgh, Ms Lal was also at the forefront of race relations during a period of immense political and social change.
Her son Vineet Lal says: "It's only with my mother's passing that her achievements can be put into perspective."
Saroj was born in Gujranwala, the daughter of Behari Lal Chanana, a Congress Party politician and "Quit India" advocate, who campaigned for an end to British rule in India.
Her early years were marked by the turmoil of partition.
"The influence of her father in the period leading up to partition was important, that sense of equality, justice and freedom," says her son Vineet.
"They left their house in what is now Pakistan. Her only regret was she had hidden her pocket money, a few rupees, and had to leave the notes behind."
After marrying engineer Amrit Lal, they moved to Singapore where Vineet was born.
In the late 1960s, the family moved to Leith, in Edinburgh, where Saroj had a daughter, Kavita, in 1969.
In 1970 she walked through the doors of South Morningside Primary as one of the first women of colour in teaching in Scotland.
Her son Vineet says: "Some of the issues she confronted would have been about how unusual it was to find a woman of Asian origin in education. You could count them on one hand."
Vineet says the teaching materials his mother used showed a clear divide between the white "civilised" world and the black "rudimentary" developing world.
He says: "To draw distinctions between an advanced, culturally elite, West and a primitive developing world implies there is no culture, no civilisation, that underpins non-white societies."
Saroj left teaching to focus on her young family. Once life settled down, she volunteered with the YWCA Roundabout Centre in Leith.
Her friend and colleague, Susan England, says overt and institutional racism in Edinburgh in the 1970s was common.
"At that time many woman felt isolated in their homes, frightened of name-calling and getting pushed about," she says. "If they couldn't communicate they wouldn't go out."
In response, Saroj started Edinburgh's first local authority interpreting and translating service.
Susan recalls an anti-racism training session they delivered together, with Saroj dressed in a sari, which she wore as a "symbol" of who she was.
One teenager asked why people wore "silly clothes".
Ms England says: "He was a goth, long leather coat and black hair. She didn't take him down. She looked at him and said 'rather like you'.
"Saroj said 'when you are the last person on the bus that anyone will sit next to, you realise you are different'. Saroj fostered a pride in difference."
In the early 1980s, Saroj moved to the Lothian Racial Equality Council, becoming director, before her retirement in 1996.
Prof Rowena Arshad, co-director of the Centre for Education for Racial Equality in Scotland, first met Saroj in 1985.
"I remember her whimsical smile," she says. "She was quiet spoken and wanted to know what languages I spoke to harness me to work at grassroots level."
Prof Arshad says Saroj was very diplomatic.
"She was not operating at a time when there was Black Lives Matter, racism was not fully discussed in Scotland then," she says.
"Saroj had to find a way of bringing issues to the attention of decision-makers, particularly those funding projects, in a way that enabled funds to flow without threatening the ecosystem.
"At that time in Scotland social class was understood, sectarianism, geographical discrimination between rural and urban were probably there. But race - definitely not," says Prof Arshad.
"She dressed in a sari for her professional life. A quiet statement of saying 'no, I will be who I am, you will accept me for who I am'."
The University of Edinburgh has created a scholarship in Saroj Lal's name, to support people from black, Asian or minority ethnic backgrounds through teacher training.
Prof Arshad says: "When pioneers break glass ceilings it should be remembered and acknowledged in Scottish teaching history.
"The award recognises her, that she was there and what she did."
The General Teaching Council Scotland has also created the Saroj Lal Award for a pioneering spirit in equality and diversity, to celebrate teachers who promote those values.
In 1984, Saroj appeared on BBC Scotland's religious affairs panel programme, I Believe, You Believe.
She asked how she would communicate the "salient points" of Hinduism to those of other faiths, so they might "understand it better."
She said: "The teachings are the same. It's we people who make it sometimes look different.
"When you come to Britain this gives you the opportunity to live in a society where you come into contact with many different religions.
"After coming here you realise we are all the same."