The 10-year-old boy who beat a chess grandmaster - but didn't want to boast
By Angie Brown
BBC Scotland News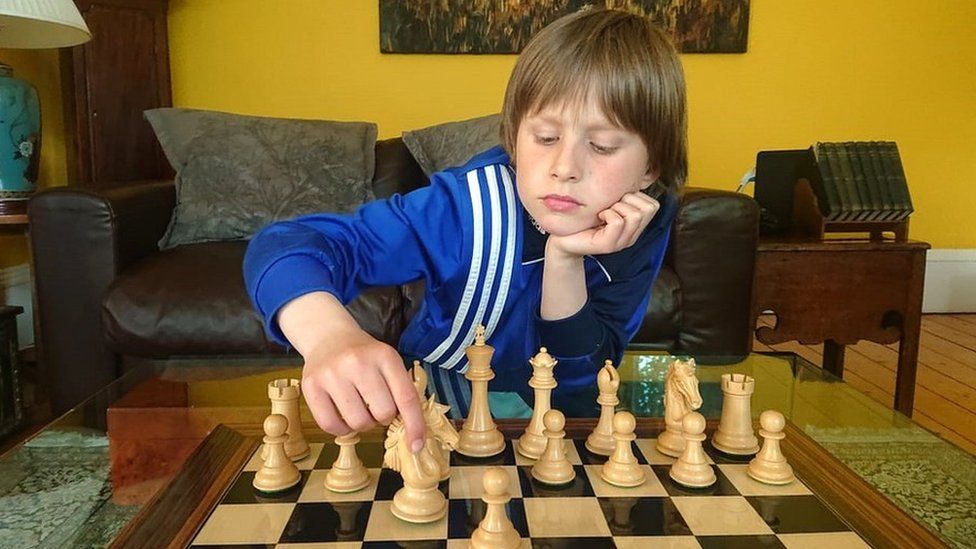 Frederick Waldhausen Gordon is just 10 years old and has already defeated a chess grandmaster. But the talented young Scottish player did not share his excitement with his school friends because he thought it would be boasting.
Freddy started playing chess at the age of six - and within a week he was beating his parents, who both have PhDs in maths.
He joined the Edinburgh Chess Academy and started practising two hours a day after school and four hours a day at weekends. He watched the best players on YouTube and picked up tips from his chess teacher and a family friend.
Freddy became the under-10 British champion, one of Scotland's top graded juniors of all time, and is currently the country's top under-18 player.
And in March this year, he defeated grandmaster Bogdan Lalic on his way to winning an English Chess Federation Prix Rapid Event.
He faced adult opponents in his six matches, but said the 30-minute contest with the 57-year-old Croatian was the most exciting game.
Freddy, a pupil at George Heriot's School, said: "I was very nervous, but I thought whatever happens I will learn from it so as not to put too much pressure on myself.
"He played some moves that I would call a bit inaccurate and I took advantage of them. His little inaccuracies became a big thing as it went on.
"We had both taken the same amount of pieces but the ones I had taken were more valuable.
"I was then in a position where I was close to winning, so he resigned."
The championship was held online, due to Covid restrictions, so he played from his father's study.
He said: "I can't have any distractions and need complete quiet, so my family waited in the garden while I played with the door shut.
"I don't play too passively, I keep my opponents on their toes.
"As soon as it was over I jumped up and down, because it is not nice sitting in a chair for all that time."
He then shouted the news out of the window to his parents - Dr Maja Waldhausen and Prof Iain Gordon - and his 12-year-old sister Josephine.
However, he has not told anyone else about his achievement in the competition, where he also drew with English grandmaster Keith Arkell.
"I didn't tell anyone at school because I think that is boasting," he explained.
Freddy will be among the competitors at the Scottish Junior Tournament on 12 June.
The event, which is open to players aged six to 18, has a £10,000 prize fund.
Its co-founder Andrew Green, who owns the Edinburgh Chess Academy, said it was "remarkable" for a 10-year-old to beat a grandmaster.
"There are some seriously talented young Scottish chess players, such as Fredrick, coming through," he said.
"My dream is for Scotland to be known for chess."
He said chess had seen "a surge in popularity" across the world during the pandemic.
He said this was due to more people spending time at home and the success of Netflix series The Queen's Gambit, while players such as Magnus Carlsen, Hikaru Nakamura and the Botez sisters had also helped raise the profile of the game in recent years.
The others taking part in the Scottish Junior Tournament include nine-year-old Maggie Wang, from Edinburgh.
The Davidson Mains Primary pupil did not know how to play chess until two years ago, and says she is still learning.
"I have been preparing for the tournament by playing puzzles, watching chess tutorials online and by playing matches," she said.
"Eric Rosen is my favourite player so I have been watching a lot of him and learning how to play opening traps from him."
Maggie has also watched some of the Queen's Gambit, and tried to replicate the trick of using her imagination to visualise moving chess pieces on the ceiling.
"But it didn't work. I can imagine a few moves when I close my eyes, but not when they are open," she said.
Maggie's father, Shuo Wang, said he liked her playing chess because it taught her life skills.
The 41-year-old software developer said: "She can focus and think more before taking any actions.
"Chess is very useful for everyday life. It's teaching her skills which she can use outwith chess.
"She knows now that it doesn't matter if she wins or loses, it's all about focusing on improving herself and her personality. She can then share her knowledge with others."
Related Internet Links
The BBC is not responsible for the content of external sites.