Covid: Double-jabbed students denied quarantine exemption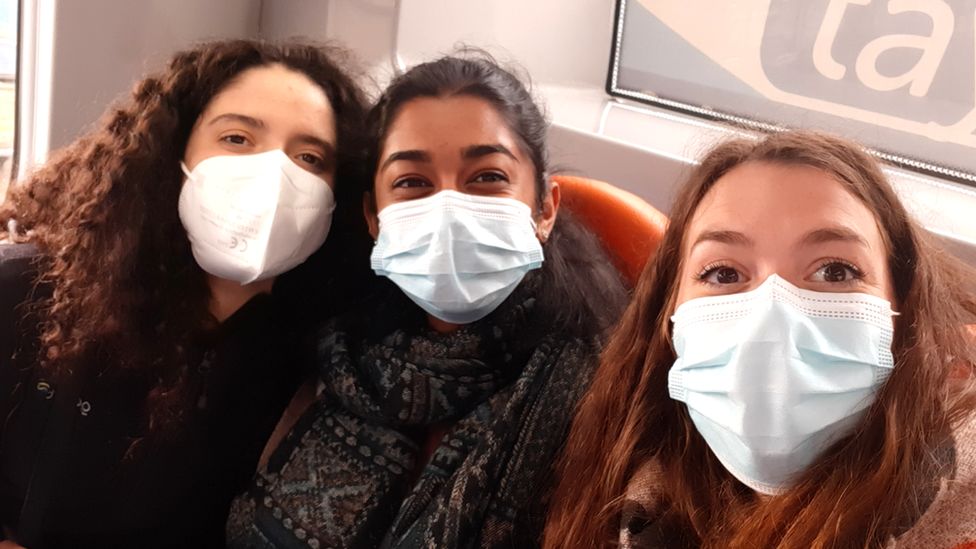 Three students have been refused exemption from travel quarantine rules because their vaccination certificates do not show they have had two jabs.
The St Andrews University friends all received their first dose in England and their second in Scotland.
But only the second jab shows up on their NHS Scotland paperwork - meaning they would have to isolate if they travel abroad.
The BBC has also learned of problems for English students studying in Wales.
The Scottish and Welsh governments and NHS Digital - which covers England - have said they are working to resolve the issue.
But Giulia Benedetta Calabrese - a PhD student at St Andrews - fears the paperwork confusion between health authorities in Scotland and England may force her to miss her brother's wedding at home in Italy.
She said: "I have been very careful to ensure I got both vaccines and had all the paperwork ready to travel.
"I can't understand why the vaccination programmes in England and Scotland are struggling to match up people who have moved across the border, between jabs.
"I know there are many more people that have had similar experiences to me and I don't think it's fair that we have to go through all of that."
Ms Calabrese, 28, moved to St Andrews to start her PhD in neuroscience in November 2020.
She has sought the help of her new MP, Liberal Democrat Wendy Chamberlain, who has raised the issue with Scotland's health secretary Humza Yousaf.
Ms Chamberlain described the confusion between NHS Scotland and NHS England as "a shameful situation that should never even have come up".
She said: "Many people, including thousands of students every year, move between the four nations of the UK.
"Yet confusion between our separate vaccine programmes has reached the point where jags received elsewhere in the UK have not been recognised by NHS Scotland."
The BBC also heard from Kate Loynes from London, whose son is at university in Cardiff.
She said that it had been "incredibly frustrating trying to establish how to obtain proof of his full vaccination".
Her son had his first dose of the Pfizer vaccine in Wales and his second at a walk-in vaccination centre in London.
Ms Loynes said that when he tried to get proof of his fully-vaccinated status, the Welsh health system could not trace the vaccine administered in England.
Meanwhile, his GP in London was unable to record the Welsh vaccination on the software system in England.
The Scottish government told the BBC it would look to see if it could assist with the St Andrews cases.
A spokesman said: "We are working at pace to align vaccination records from different nations of the UK and have a process in place for sharing data between England and Scotland.
"We continue to work towards replacing the record of vaccination status with a digital record of Covid status, which will include vaccination and testing data to be used for outbound international travel."
A Welsh government spokesperson said: "We are working with NHS Digital to resolve this issue."
An NHS Digital spokeswoman said: "The NHS Covid Pass service is helping tens of thousands of people to demonstrate their vaccination status quickly, easily and for free. We are currently working to ensure that all vaccination information is shared across the devolved administrations.
"We are working on a solution for people who are registered with a GP in England, who have received one or both of their vaccinations in Wales or Scotland, to see their records in the NHS Covid Pass, and will roll it out as soon as it is ready."