New investigation into the burning of memorial benches in Edinburgh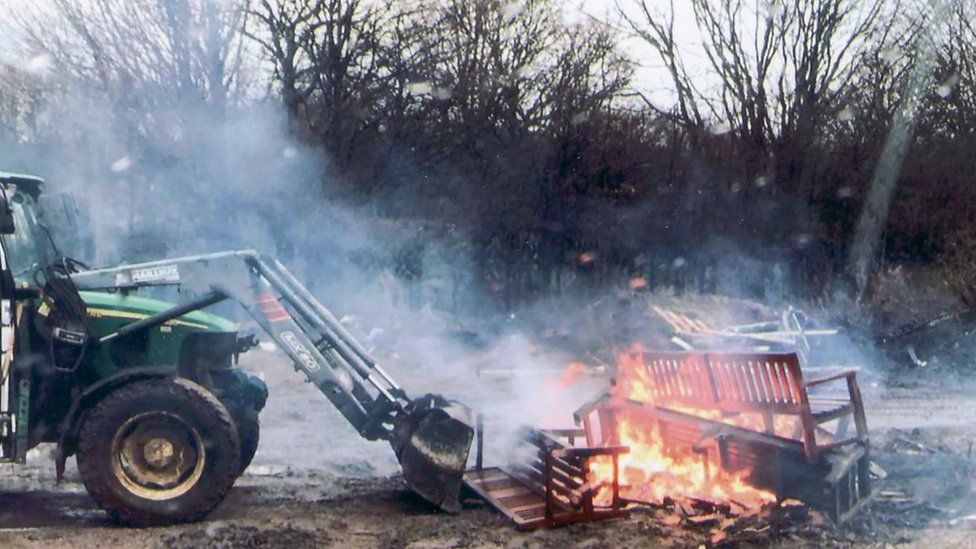 City of Edinburgh Council has launched a new investigation into allegations 70 memorial benches were burned by its own workers after receiving new information.
Pictures showing benches being burned were handed to the Edinburgh Evening News by a whistleblower last year.
The benches had sat at the council's Inch depot for more than a year.
At the time, council chiefs said "the person behind the decision must be held accountable".
However, in response to questioning by Conservative group leader Iain Whyte, it emerged no-one was disciplined as the suspected member of staff had left the employment of the council.
In response to a written question by Mr Whyte, Karen Doran, the council's transport and environment vice convener, said: "The investigation referred to by the council leader was concluded.
"This found the person that was allegedly responsible for the burning of the benches is no longer employed by the council.
"However, further evidence has come to light in recent weeks which has caused this finding to be questioned and a new investigation is under way."
In response, Mr Whyte said: "Given the very robust statement from the council in January 2020 it is astonishing that 19 months on it took a question from me to discover that they concluded an investigation without holding anyone to account.
"Unsurprisingly, the person who had left was blamed. That seems now to have been found to be only part of the story and they are reinvestigating. How long will this all take?
"It also seems the council process can do nothing when someone leaves.
"Maybe on this occasion they need to ask the police whether burning donated memorial benches was criminal damage."
Historically, the council maintained benches in perpetuity but decided to end the practice due to cost, and in 2018 a motion was passed to shorten this period to 20 years.
Wooden benches cost families £3,925, while a metal bench cost £1,965 with a 20-year maintenance warranty included.
If a seat is deemed to be damaged beyond repair, the commemorative plaque is removed and stored until it can be returned to the donor, if they wish.
The donor is also contacted and offered the opportunity to purchase a new metal bench or a wooden model, if the original was in either Princes Street Gardens, Saughton Park or the City Chambers Quadrangle.
In the event of the council being unable to contact a donor, the seat is removed and stored for 12 months.
If the donor does not respond within a year then the bench is decommissioned.
This usually involves it being broken up so any salvageable parts can be recycled.
Related Internet Links
The BBC is not responsible for the content of external sites.