Avian flu hits world's largest gannet colony on Bass Rock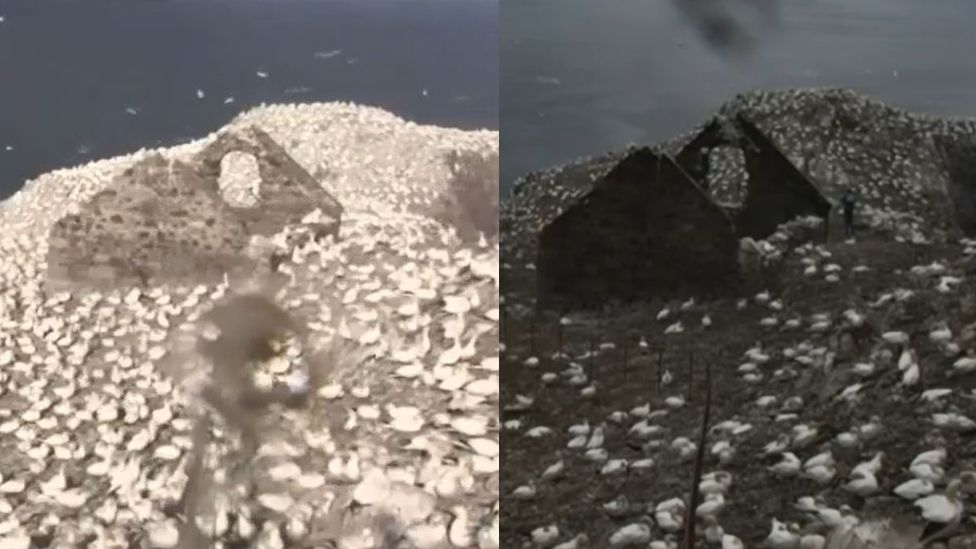 Avian flu has been confirmed on Bass Rock, the world's largest colony of northern gannets.
The Department for Environment Food & Rural Affairs tested a small number of birds which were among hundreds found dead along the East Lothian coast.
Bass Rock, in the Firth of Forth, is normally home to 150,000 gannets, one of Britain's largest sea birds.
The Scottish Seabird Centre said it felt "powerless" watching the disease spread across the colony.
In the past two weeks, 167 birds have been collected from beaches in East Lothian, mostly from a stretch between North Berwick and Yellowcraig Beach, and a further 120 were left in more remote areas.
An East Lothian Council spokeswoman said the vast majority of dead birds were gannets, but there were also a few species of gull and two puffins.
"It is the nature of the proximity of nesting with gannets that appears to be the problem. They nest cheek by jowl, or beak by feather, and that lends itself to spreading more readily," she said.
Fewer birds have been found in the past two days, while prevailing winds have meant birds were not being washed ashore. However, more are expected over the weekend when the wind direction is forecast to change.
Susan Davies, from the Scottish Seabird Centre, a charity that works to protect seabirds on Bass Rock, said: "We feel powerless. We can only watch and monitor the passage of the disease as it spreads through the colony.
"We need resources to undertake survey work - including by drone - in the coming weeks. This will enable us to get a better handle on the scale of impact and to better monitor the recovery of the colony in years to come."
Ms Davies said: "Patches within the colony, which would have been packed tightly with noisy and boisterous gannets sharing the responsibility of protecting their precious eggs and feeding young chicks (gugas), are becoming more sparsely occupied as each day passes."
She added: "This story is far from over. It is only with time that we will know the full extent of the impact of avian flu on these spectacular birds and other seabird colonies."
Bass Rock is normally home to over 150,000 gannets in peak season, making it the world's largest colony of northern gannets
The gannet is one of Britain's largest seabirds with a wingspan of up to 2m (6.5ft). They are bright white with distinctive black wingtips and a yellow head.
The seabirds catch fish by folding their wings back and diving head first into the water at speeds of up to 60mph (96kmh)
The colony spends much of the year on Bass Rock, arriving in February and migrating to the west coast of Africa in October.
Ms Davies called for more support from the Scottish government for seabird colonies - which also face pressures from climate change, invasive species, pollution and over-fishing.
Some scheduled boat trips to the visitor attraction off North Berwick have been suspended, although non-landing trips and visits to the nearby Isle of May are continuing.
Public health advice is that the risk to human health from the virus is very low.
Members of the public are being urged not to touch any dead or dying birds and report sightings of more than five dead birds to Defra, or any ringed birds to the British Trust for Ornithology.
Earlier this month, there were warnings bird flu was spreading through breeding sea bird colonies in Shetland.
About 1,000 dead gannets had been recorded, and hundreds of great skuas were been found dead or dying.
It followed dozens of wild birds dying in a suspected avian flu outbreak at Loch Fleet, near Golspie in Sutherland, last month.
Earlier this year, bird flu cases were reported in Dumfries and Galloway, Aberdeenshire and Ayrshire.